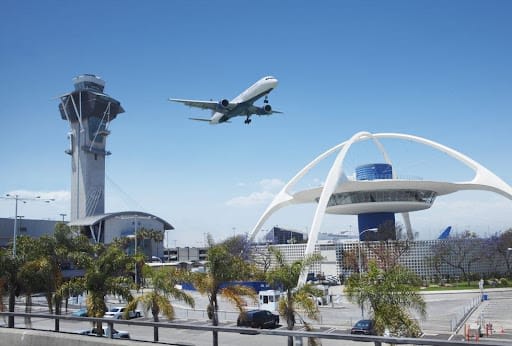 Wondering whether it's safe to travel now? You're not alone. You may be on Santa's nice list for quarantining all year long, but now's not the time to throw caution to the wind.
Even with many states lifting travel restrictions, the Centers for Disease Control and Prevention warns that staying home is the best way to protect yourself and others. But for those who choose to travel during the holiday season, we've gathered advice from experts on how to do it as safely as possible. Below is a Q&A to answer your top questions.
Should I get tested?
Coronavirus tests are an advisable step toward traveling as safely as possible. There are a variety of
places in L.A. offering testing
. Make an appointment and time your test right, so you get results back close to your departure.
What about travel bans & restrictions?
Look into the specific travel restrictions for your destination. For example: The governors of New York, New Jersey and Connecticut now require visitors from 36 states to self-quarantine for 14 days. They have even set up checkpoints at bridges and are issuing fines and a summons for noncompliance.
If you're traveling abroad there's a growing number of popular vacation options such as Mexico, Ireland, The Caribbean, Bahamas, Costa Rica
and more
that are allowing U.S. visitors.
Can I travel with gifts?
Technically, yes. But prioritizing health precautions by minimizing what you bring is a smart travel move. Mailing gifts will allow you to focus on wearing your mask, and making sure you're keeping a distance instead of lugging a bunch of bags around the airport.
Are hotels and rentals safe?
Both short-term rentals and hotels have upped the ante when it comes to cleaning and sanitation. Before checking in, see if your hotel chain has a phone app that you can download to speed up your check-in process. Some hotel apps also feature "digital room keys" that help reduce a guest's touch points.
When booking through Airbnb look for the "Enhanced Clean" highlight on listings. To earn this certification, hosts must follow a detailed five-step cleaning process
What safety gear should I bring?
If you have access to a N95 face mask, be sure to pack it. Face coverings are mandatory on every major U.S. airline for adults and children over the age of two. Airlines have been enforcing this policy strictly. We also recommend carrying hand sanitizer and disinfecting wipes. TSA is currently allowing one liquid hand sanitizer container, up to 12 ounces per person, in carry-on bags.
For a list of travel safety accessories,
click here
.
How do I keep my luggage safe?
If you're flying with luggage, health experts recommend carrying on instead of checking a bag. Not only are you able to better control who touches your bags, you will bypass potentially crowded luggage carousels.
Will there be mid-flight munchies?
Some airlines have pared down onboard food and drink services, while others have eliminated them altogether. Keep yourself fueled by packing snacks. Travelers will now be required to remove food from their luggage and put it through the scanner in a clear plastic bag to help minimize TSA officer contact with food items.
If traveling by car, bringing food can keep interactions with others and touching common surfaces to a minimum.
Should I rent a car or rideshare?
Renting a car tends to pose fewer risks than taking public transit since you're exposed to far fewer people. Book your car rental through a company that has instituted their own rigorous cleaning procedures. Hertz, for example, now seals vehicles after a 15-point cleaning process between each rental. Wiping down high-touch areas and increasing ventilation through the windows or air conditioning is also advised.
If you plan on using a rideshare service, look into their safety policies before your trip. Here's the latest from
Lyft
and
Uber
.
Whether you choose to stay in, hit the road or fly, we hope these tips help you and your loved ones travel safe during the most magical time of year.