Every Angelino knows fall in Los Angeles is as close to perfection as you can get. Clear days, less crowds and moderate temps make it the perfect time to soak up the fading summer sun from a private rooftop patio. While many establishments clamored to retrofit parking lots with plexiglass and folding chairs to form their idea of outdoor dining over the last year, our list includes some of the finest restaurants on the Westside with gorgeous patios and delicious food to match.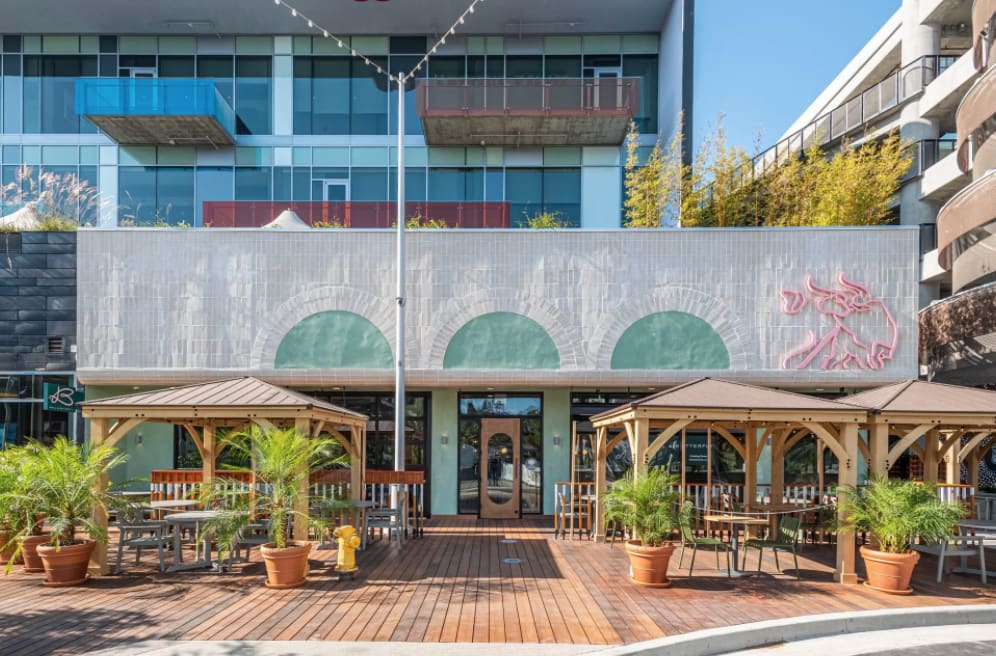 Pictured: Bull & Butterfly exterior and patio
1. Bull & Butterfly
12746 Jefferson Blvd. #2200 Playa Vista, CA 90094

Coming up on its one year anniversary, Playa Vista's newest coastal California-inspired steakhouse, Bull & Butterfly, offers wood-fired organic and humanely raised meats paired with locally sourced vegetables. As a passion project of husband and wife Alan and Heidi Jackson, founders of the acclaimed Lemonade restaurants, Bull & Butterfly falls nothing short of ahh-mazing. Why we love Bull & Butterfly: Live fire cooking and fig and sweet cream ricotta pancakes. bullandbutterfly.com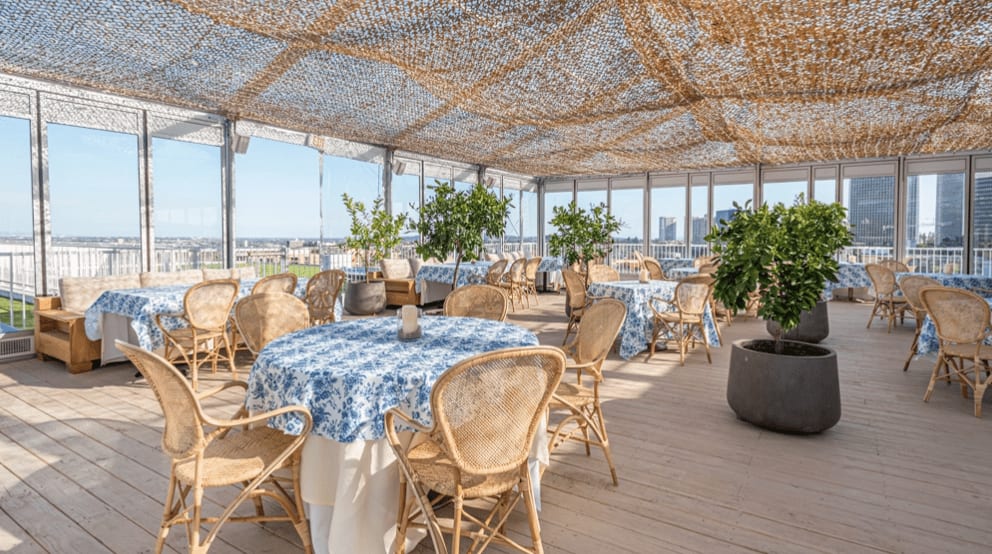 Pictured: Sant'Olina rooftop restaurant | Photo by:

Wonho Frank Lee
2. Sant'Olina
9876 Wilshire Blvd, Beverly Hills, CA 90210
As part of the Beverly Hills Hilton's $35-million renovation, the breezy Mediterranean rooftop restaurant made its debut in the L.A. restaurant scene earlier this year. And we're glad it did! With open-air views of the city and Israeli and Mediterranean flavors, Sant'Olina makes sitting in Wilshire traffic way worth it. Why we love Sant'Olina: Seascape vibes, Moroccan-spiced carrots and their merguez lamb burger. Santolinabh.com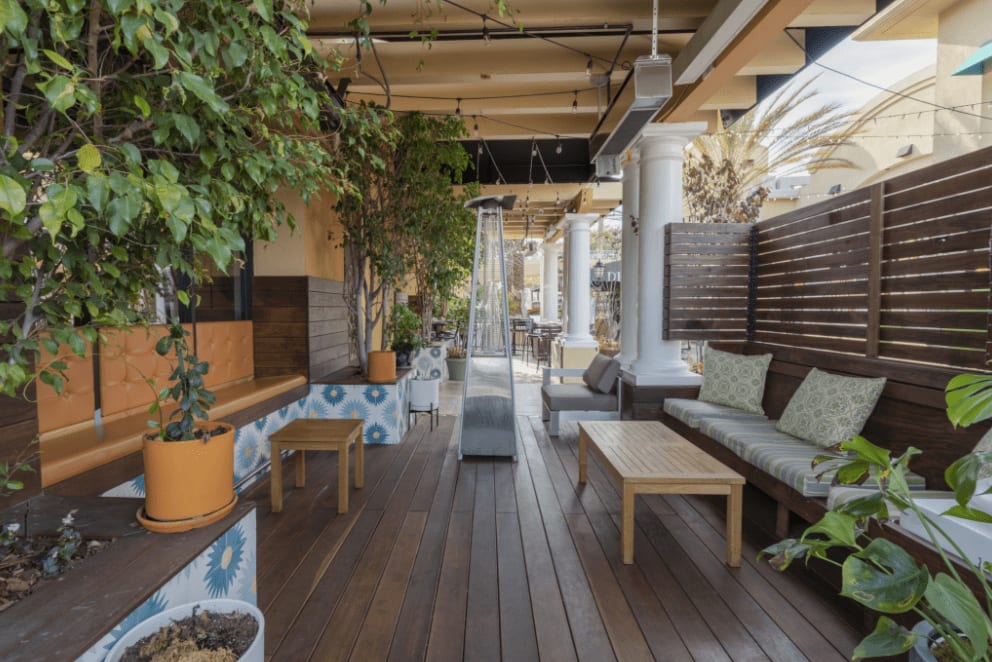 Pictured: Enclosed outdoor patio at Madre, West L.A.
3. Madre Restaurant & Mezcaleria
West Hollywood, Palms and Torrance
Tastefully brought to SoCal by Oaxaca native Ivan Vasquez, is the Madre chain of restaurants (not to be confused with vegan Mexican restaurant Gracias Madres, also in WeHo). Boasting the area's best mezcal collection of agave spirits, Madre's exquisite food, drinks and beautifully-designed patios, are some of the reasons why its Culver City location has nearly 700 five-star reviews on Google. We will warn you, if you've never heard of tlayudas, memela spread, or nopalitos, well, your taste buds are in for a ride. Why we love Madre: Weekend-only lamb barbacoa and drinks made with rare Mexican ingredients. Madrerestaurants.com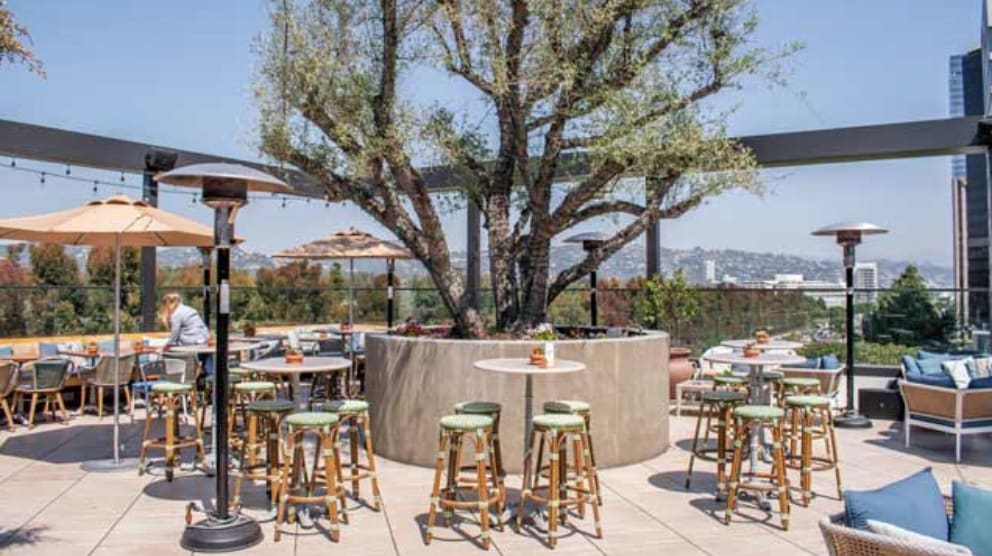 Pictured: Terra rooftop terrace by

Rooftop Guide
4. Terra
10250 Santa Monica Blvd. Los Angeles, CA 90067
Another rooftop gem, Terra's twinkle-light terrace grants 360-degree views of Hollywood Hills, botanical cocktails and signature Italian dishes Alla Grigila (off the grill). Terra is located on the third floor of Italian marketplace, Eataly L.A. Why we love Terra: Handmade pastas, char-grilled oysters and mushrooms. eataly.com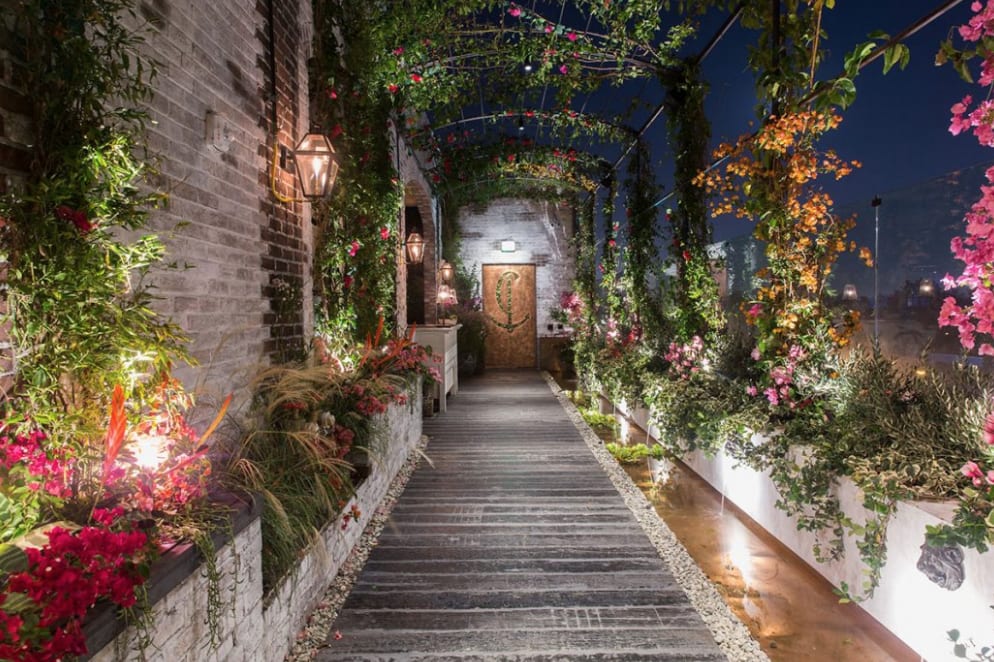 Pictured: Catch entryway, courtesy of Catch
5. Catch
8715 Melrose Ave, West Hollywood, CA 90069
If you're a seafood lover and don't mind celebrity sightings, Catch in West Hollywood is a must-visit. As one of the most Instagrammed places in L.A., with its iconic, gardenesque archway entrance, Catch is perfect on a weeknight when its slightly less crowded an you can enjoy sashimi, sushi and salmon a la plancha. Why we love Catch: retractable roof with views of the Pacific Design Center and its A5 Japanese Miyazaki Wagyu. catchrestaurants.com/catchla
What's your favorite outdoor dining destination on the Westside? Let us know!