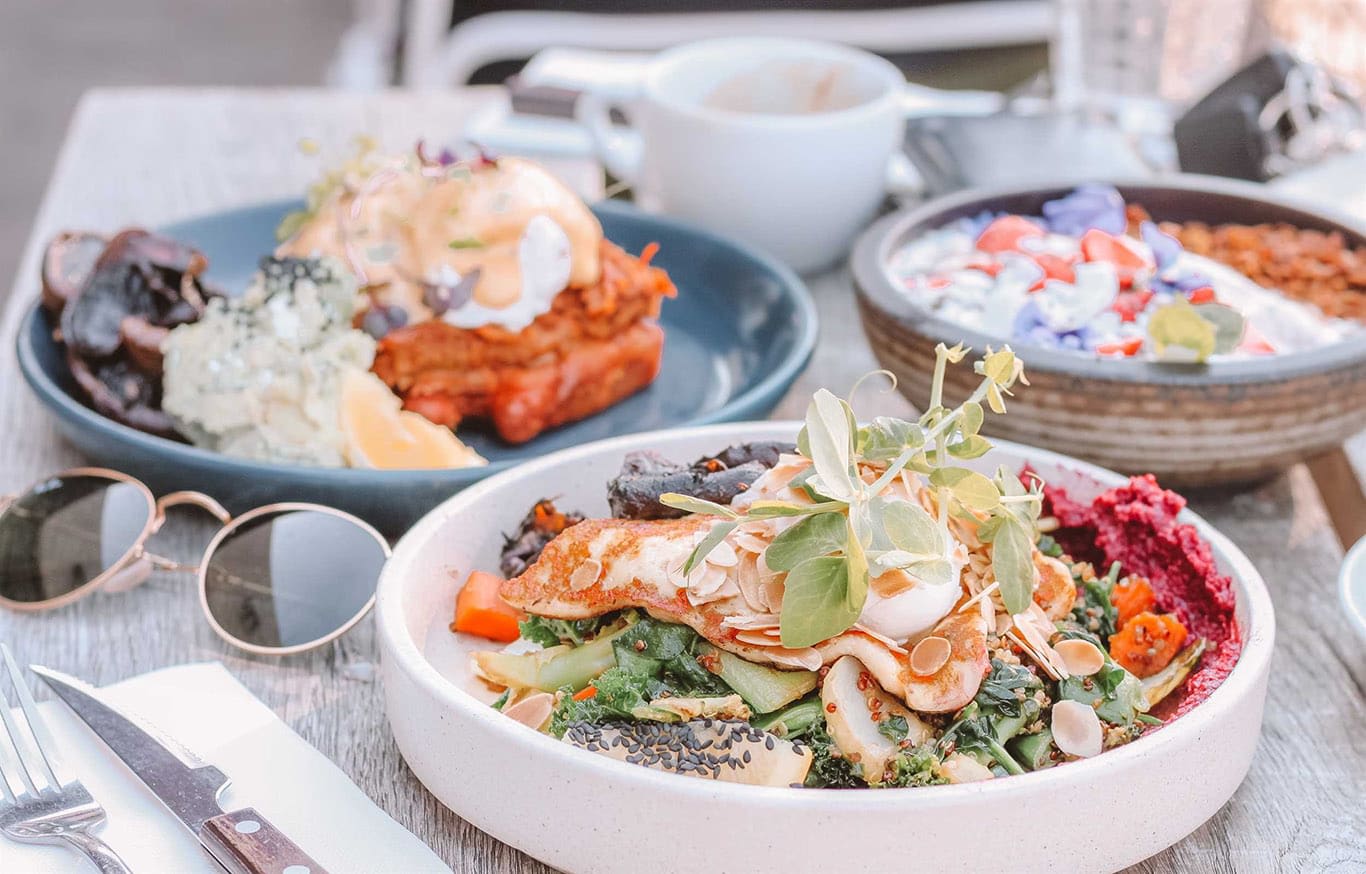 Whether your palate is in search of vegan, vegetarian, or more plant-based dishes, there are plenty of Los Angeles restaurants that will cure your health-conscious munchies. No need to lunch-shame yourself after grabbing a bite at any of these six restaurants.
As a salad chain with three locations in the Los Angeles area, Sweetgreen keeps it fresh by serving up simple, seasonal, healthy salads and grain bowls made in-house from scratch. The best part is Sweetgreen uses produce delivered that morning for dishes made that day. On its menu are several signature salads to choose from. Not feeling salad-y? Look to Sweetgreen's delish bowls such as the Curry Chickpea or the Fish Taco to make your meal hot. For all you vegans, gluten-free foodies, and calorie counters, there's more than enough to choose from. Psst… Sweetgreen is set to become a $1 billion food startup. Go, greens go!
There's definitely no guilt if you're eating your positive affirmations. Café Gratitude is best known for its vegan and raw dishes with self-affirming names. I am Intuitive for the flower-child restaurant's French Fries, I am Pure for the Asian Kale & Wakame Sala and I am Devoted for the Indonesian Grain Bowl, to name a few. Even if you're not one for mantras, yoga, or meditation, consider Café Gratitude's three Los Angeles locations for a wholesome, inventive lunch.
Lines out the door? Yes, expect that at all five of their Los Angeles locations. Urth Caffé prides itself on its rich organic, sustainable, fair-trade coffee. With tasty salads, creative teas, and its yummy coffee options, Urth Caffé offers crowd-pleasing healthy fare for the lunch-goer with a little more time on her hands. The lines speak for themselves. You can even grab something amazing from Urth at the LAX Airport...just make sure you're not running late for a flight!
Whether you're vegan, vegetarian, Paleo, or just hungry, Flower Child in Santa Monica is one of our favorite local spots. With its hearty dishes and lightweight salads, Flower Child pushes its mission to "radiate positively delicious vibes." Feel confident that your meal is always be made from scratch and served fresh. Some menu items include Crushed Avocado Toast, Mediterranean Quinoa, and Skinny Beer if you're avoiding the calories but crave the taste.
Tocaya Organica has made L.A. its stomping ground! With nearly a dozen locations from the Westside to Downtown, this modern organic Mexican cuisine pairs the highest quality ingredients with bold flavor. Aye, Caliente! What we love most about Tocaya Organica is that it uses only locally sourced produce and meats and fish that are 100% free of hormones, steroids, and antibiotics. Their menu boasts an array of classic Mexican favorites such as burritos, tacos, and churros, of course.
Freshly made juices and Grab N' Go Food items make Kreation stand out for simplicity and ease. If your lunch is a quickie, Kreation is a great choice. Its cold-pressed juices are seasonal, so expect a change in the variety from time to time. Ranging from green-based juices to powerful protein options, the drinks at Kreation are made to give your body some TLC. As far as food goes, you can expect small salads, wraps, quinoa bowls, and topless chicken plates.