Around this time each year, we all start thinking of the friends/family/fantastic people in our lives, and the ways in which we can show a little material love. However we're able, we should do what we can to show our love, express our gratitude, and spread some much needed cheer to anyone within physical or virtual reach. Whether you'll be shopping in person or stockpiling online, for those of you already on the hunt for gifts, here's a sneak peek at some of our favorites.

SHOPPING LOCAL:
We've mentioned before the importance of supporting L.A.! Gifting a loved one that perfect dish/treat/drink might make you feel good, but we can attest to the intense warm fuzzies that come along with helping your local economy in the process. So, to that end, we've put together a list of some of our favorite places to score local merch and home goods.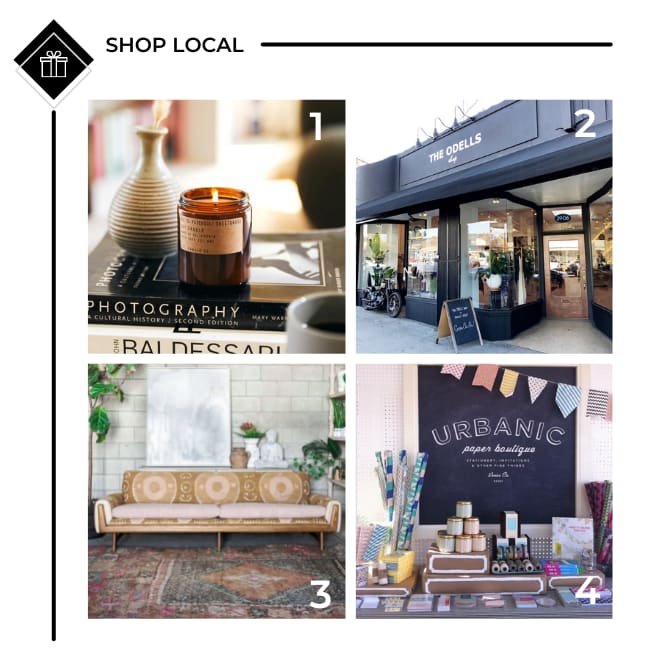 1. P.F. Candle Co. Candle Shop - 6144 Washington Blvd. Culver City, CA 90232
This L.A. based husband and wife, turned 60-person operation and globally recognized brand is the place to go to if you're shopping for someone who loves terra cotta potted candles, room sprays, reed diffusers, home fragrances or could use a few additions to their self-care rituals.
2. The ODELLS Shop - 3906 Sunset Blvd., Silver Lake, CA 90029
The ODELLS shop in Silverlake showcases an eclectic mix of men and women's clothing, accessories, vintage goodies, shoes and apothecary goods. Shop online and get free shipping with purchases over $150 or shop in store.
3. Tumbleweed & Dandelion - 1502 Abbot Kinney Blvd. Venice, CA 90291
The furniture and design store by Lizbeth K. McGraw is full of high-quality home goods and personalized services like custom furniture design, reupholstering and real-estate staging. Browse vintage and rare treasures, handmade pillows, finds from Paris, custom furnishings and more at Tumbleweed!
4. Urbanic Paper Boutique - 1644 Abbot Kinney Blvd. Venice, CA 90291
Another Abbot Kinney staple, Urbanic opened in 2006 and is best known for its curated selection of stationary, wrapping paper, cards and other paper goods. The boutique also offers a unique array of notebooks and journals, such as the rituals journal ($17.95) or the well journal ($24), plus self-care sets like the clay face mask kit ($25) and the time to unwind relaxation set ($35).
SHOPPING ONLINE:
Online shopping has been a popular choice for some time now, but since the pandemic it's become both a necessity and convenience for many families with health concerns; or let's face it, just really busy lives! The news headlines are predicting delayed shipping times and inventory shortages, so this year more than ever, it's important to shop early if you want to score top-rated gifts.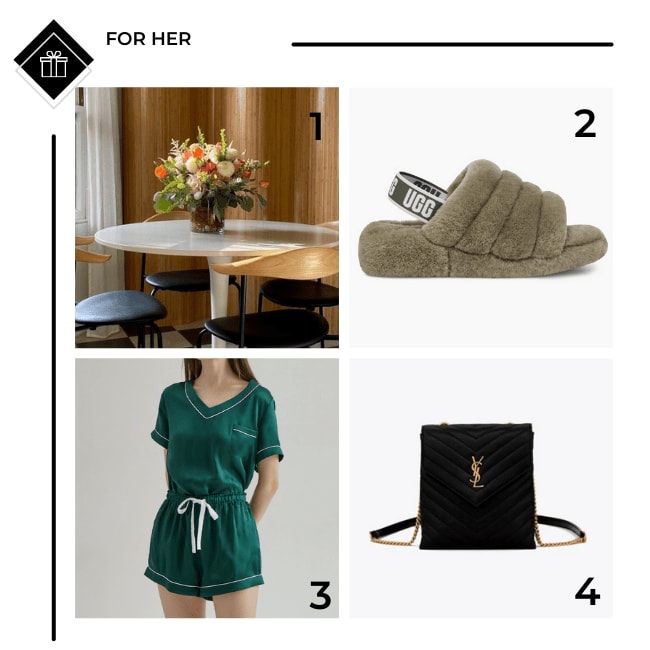 1. The French Florist Subscription, starting at $49.95
Voted Best Florist in Los Angeles! Get her a subscription so she'll have a home filled with fresh gorgeous greenery all year round.

2. UGG Women's Fluff Yeah Slide Slipper, $100
A Modern take on the classic Ugg slipper! Combining slipper and sandal into a cozy statement shoe, the Fluff Yeah is as good as it sounds and as soft as it looks. Not to mention it comes in a variety of colors.
3. Silk Maison Pajama Set, $179
Another L.A. based company that offers some of the highest-quality silk jammies (in our opinion). Both stylish and comfortable for lazy weekends!

4. Saint Laurent Double lap Bag in Quilted Lambskin, $1,490
A little black bag is the perfect accessory for her winter wardrobe and this one is at the top of every "it girl's" wish list. A splurge she'll hold on to for years to come!

1. Audio-Technica Bluetooth Turntable, $179
This isn't your grandpa's turntable! If there's anyone on your list who loves vinyl records, a Bluetooth record player is one of the top holiday gifts of 2021. The fully automatic, wireless turntable by Audio-Technica is equipped with high-fidelity audio with Bluetooth wireless technology built inside.

2 .LA Beer Hop Craft Beer Subscription Box, $75
L.A. Beer Hop is here to help you experience some of the best breweries Los Angeles has to offer from the comfort of your home. Their subscription box features six craft beers, a snack and virtual tasting invitation. Free shipping to L.A.!

3. Vuori Ponto Performance Jogger, $89
He's got to have a jogger this winter, so go with the best: constructed with DreamKnit™, which is ultra soft, brushed performance stretch knit made with recycled material. Zip pockets keep your valuables accessible, making these pants great for training, travel, and lounging.

4. Ooni Koda 16 Pizza Oven, $599.95
Cook world-class pizza in your own backyard in just 60 seconds. This portable outdoor oven is sized to bake a 16" pizza and uses super-easy gas ignition to turn on the heat. The compact, chimney-free design makes it easy to trave for picnics, camping and tailgate parties.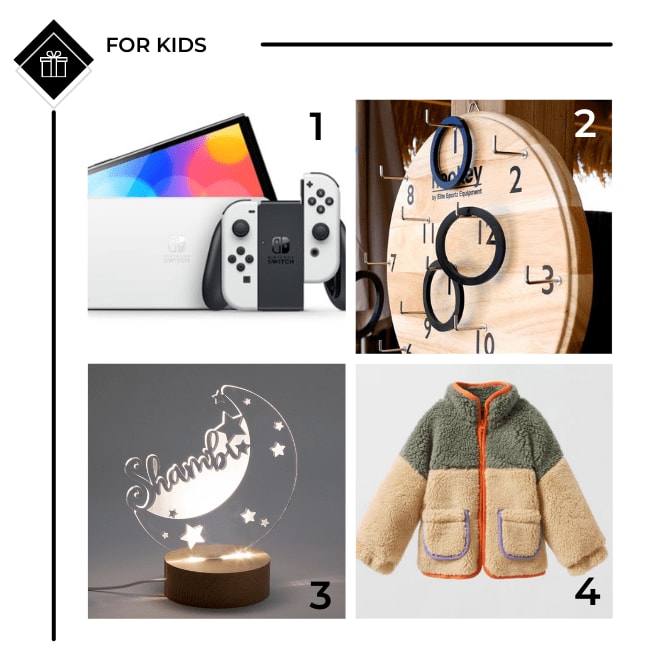 1. Nintendo Switch OLED, $349
One of the most popular gifts for kids! This update of the Nintendo Switch adds a bigger 7-inch OLED screen, a solid kickstand and comes with 64GB of storage right out of the box. For anyone looking for a family-friendly game system with a long list of exclusive games like Mario and Pokemon, this is a great alternative to the PS5 and Xbox.
2. Hookey Ring Toss Game, $39.97
Fun for the whole family! Add this to your play room or bring it outdoors for a fun family affair. This game also makes for a great White Elephant gift idea!

3. Personalized Moon & Stars Nightlight, $65
A nightlight that tells kids they're right where they belong! The perfect addition to your little one's room.

4. Block Color Faux Shearling Jacket, $35.90
A gender-neutral stylish sherpa that will keep your kiddos warm all year long. The perfect weight for SoCal winter days.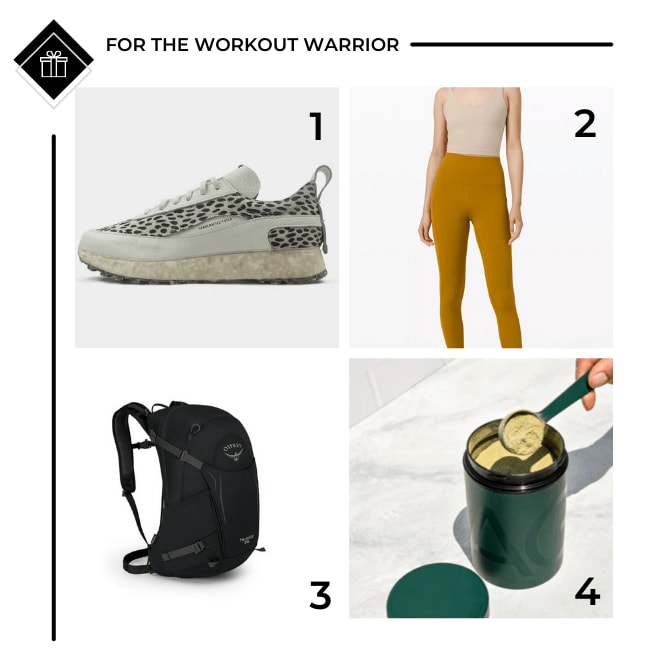 1. Women's Traction 2.0 Sneakers - $295
Retro sneaks are all the rage right now and these one are designed, developed, and handcrafted in L.A! What makes them great is their combination of premium Mastrotto® Italian leathers and tech mesh, with a soft, buttery feel that provides a LUXE experience from the first wear.
2. Lululemon Align High Rise Pant with Pockets 25", starting at $128
2021 was the year Lululemon added pockets to their cult-favorite, insanely soft Align leggings, so add a pair or two to your holiday shopping list, stat. They're so universally flattering you could probably gift them to half your list, TBH.
3. Osprey Hiking Backpack, $100
Goodbye, annoying back sweat. This pack is made with a ventilated AirSpeed back panel to keep you cool throughout your hike.

4. Athletic Greens Subscription, starting at $88 per month
Help the fittest peeps on your list revamp their morning rituals with this nutritional supplement. 75 vitamins, minerals, and whole-food sourced nutrients in one convenient daily serving. One Scoop, 8 ounces of water. It's all you really need, really.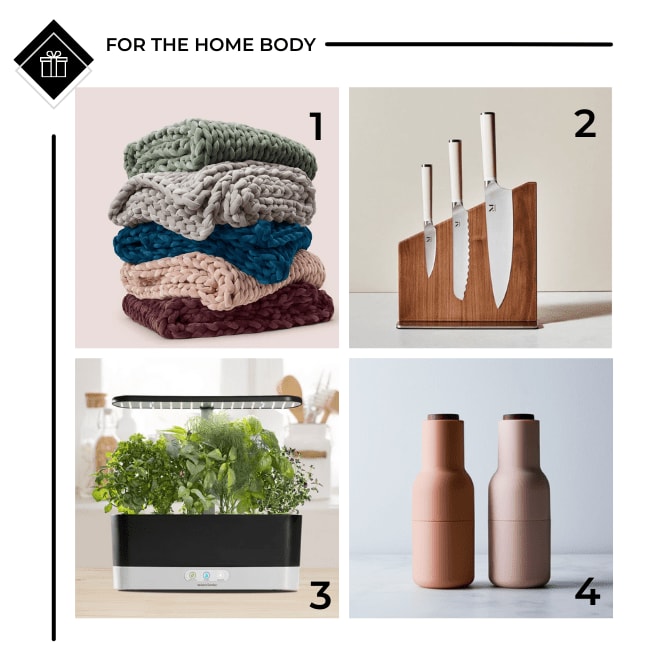 1. Bearaby Weighted Blanket, starting at $179
With all this extra time at home, cozy, knit blankets have become a big thing this year and Bearaby's blankets are some of the best ones we've found. Made of natural eucalyptus fibers, organic cotton and silky soft TENCEL Lyocell cooling fabric, the Bearaby blankets are designed to help you fall into a deep, peaceful sleep, plus they look really great as a throw on your sofa!

2. The Trio of Knives, $155
Every at-home cook needs a sharp set of knives to dice, mince and slice with ease. This trio, which Material Kitchen calls "the holy trinity," can tackle just about everything in the kitchen, whether he's carving a roast chicken (8" knife) or shaving chocolate (serrated 6" knife).

3. Harvest Slim Aerogarden, $89.95 $149.95 (on Sale)!
Small space, no problem? Now your favorite home chefs can grow fresh vegetables and herbs from their kitchen all year long. The 6-pod Harvest garden is easy to use, has a sleek tailored shape and a small footprint to fit in any kitchen.

4. Menu Salt & Pepper Bottle Grinders, $89.95
Steering away from the predictable grinder, the Norm 'Bottle Grinder' is not what you expect to see in a salt and pepper grinder. The form, shaped more like a bottle, cleverly tricks the user to encourage a more playful and experimental interaction with the product. Plus, they look great on your countertop!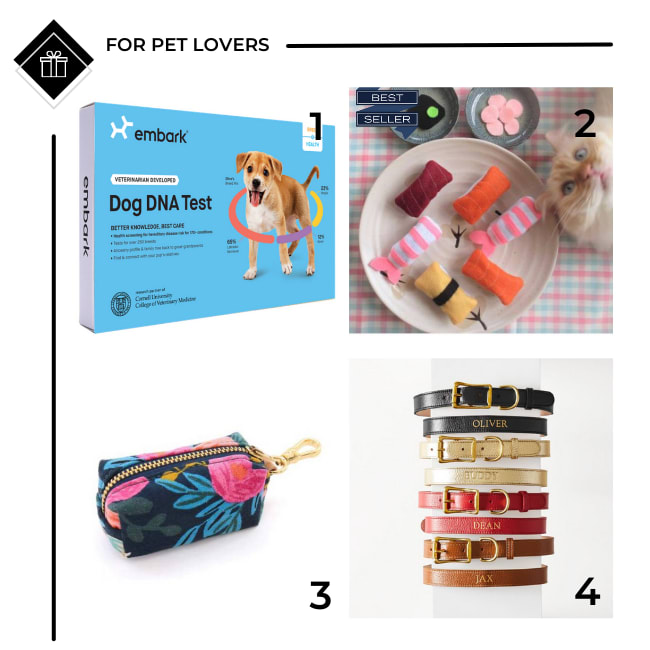 1. Embark Dog DNA Test, starting at $99
The most advanced dog DNA test! Not only will you learn more about your pup's breed, you'll get actionable insights on genetic health traits to keep him healthy and happy.

2. Sushi Cat Toy Gift, 2 pieces, starting at $11
These cute sushi toys will keep any cat entertained.

3. Rosa Floral Navy Waste Bag Dispenser, $24
This bag is almost too cute to hold dog waste bags.

4. Leather Pet Collar, starting at $59
A monogrammed leather collar is a practical and stylish options for all your pet friends.


We want to know! What are the must-have gifts on your list this year?