These West L.A. Fitness Studios Are Now Open!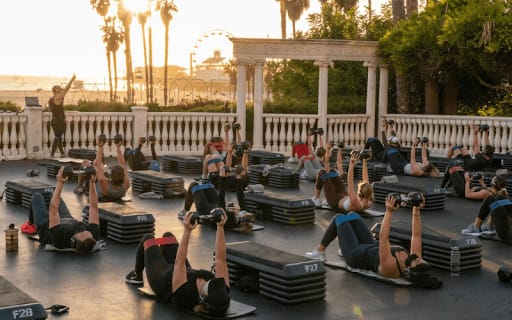 After a rough year for our brick-and-mortar businesses, especially fitness studios, Los Angeles received some promising news last month – you can open your doors!
The changes came as newly confirmed cases of COVID-19 continue to plummet, while the number of Angelenos vaccinated against the disease has slowly increased to around
4 million people
receiving at least one dose of the vaccine.
With the loosening restrictions, there are still some specific guidelines in place to ensure the safety of those looking to ditch their home gym setup and venture back into their favorite fitness studio.
New rules (as of 4/5/2021): gyms, fitness centers, yoga and dance studios can open indoors at 25% capacity with a masking requirement for all indoor activities and are encouraged to continue outdoor classes.
In effort to support local, we've rounded up some our team's favorite spots to work up a sweat on the West Side. These studios are now open and ready to help you shed those pandemic pounds or simply get back into your favorite workout regimen. In alphabetical order...
Barry's - Multiple Locations
Burn 1000+ Calories in 50-60 minutes, with instructor-led classes that combine cardio with weight lifting. Although they've opened their famous Red Rooms in studios across the U.S., currently they are closed in L.A. (hopefully opening soon)! Classes are being held outdoors at their multiple locations including: Venice, Santa Monica, Manhattan Beach, WeHo, Beverly Hills and more.
Book a class

.

*Sherman Oaks location is temporarily closed
Blue Republic CrossFit - Santa Monica
Indoor and outdoor CrossFit gym offering traditional CrossFit classes as well as lifting fundamentals all week long. Gym time needs to be scheduled to limit capacity.
Book a class

.

Bolder Fitness - Los Angeles
Lose weight, maximize muscle tone, burn fat and be bolder. This gym offers 24/7 access to its members, a perk for those who like a late night sweat session.
Learn more about membership

.

Box & Burn - Santa Monica & Brentwood
For the serious boxer! Classes focus on boxing fundamentals, while delivering an intense cardio workout and are great for all skill levels. Currently they're offering outdoor classes and a outdoor "open gym" where boxers can workout at select times. Their Brentwood location is temporarily closed.
Book a class

.

Box Union - Santa Monica, WeHo & Sherman Oaks
Boxing and so much more! This gym is great for those who like a variety of class options from boxing to yoga to HITT. At their Santa Monica location they are currently offering a range of workout classes in their open air garage at ground level (beneath the studio).
Book a class

.