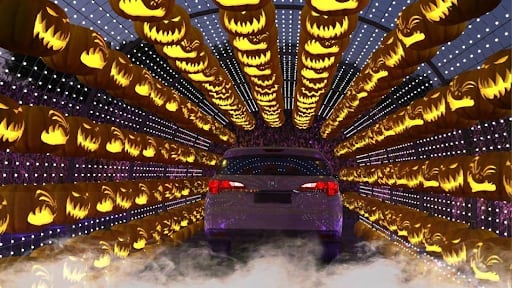 Image: Courtesy Haunt'oween LA
Most Halloween fairs are hell-bent on scaring you straight. But Los Angeles is up for the challenge of making this Halloween spookily safe for kids of all ages. Get in the Halloween spirit with these festive events in L.A., from family-friendly festivals to ghostly drive-throughs:
Roll up to those familiar holiday doors and into Halloween Town in this new car-based event inspired by Tim Burton's The Nightmare Before Christmas, plus Hocus Pocus and Ghostbusters. Freeform's Insta-friendly
Halloween House
won't let social distancing stop it altogether, so for this third annual iteration, it's returning in a safer drive-through format.
This Stranger Things-themed experience will bring the Netflix series to life with an hourlong adventure that transports visitors to Hawkins and the Starcourt Mall circa 1985. And as the name implies, you'll be able to take it all in from the safety of your own car. Hatched by the UK's wildly creative Secret Cinema, the experience will take groups of 24 cars at a time through "a world of bitchin' tunes, mullets and monster hunts," including sets complete with actors in costume and special effects.
For its 12th installment, the annual hayride is pivoting into a "live drive up experience." All from within the safety of your car, you'll venture down "All Hallows Lane" for a slew of Halloween-y elements, including a show screened on a 40-foot screen, scenic environments from previous hayrides and live character. The switch to a car-based experience isn't the only major change: Griffith Park, where the hayride has previously set up, simply couldn't accommodate a trail of cars, so instead the event is moving a ways east to Bonelli Regional Park in San Dimas.
Trick or treating will look a little different this year, but that doesn't mean you can't get the whole family together for a drive-through experience to get spooky. Coming to Woodland Hills on October 9, a new Haunt'oween L.A. event promises jack-o'-lantern tunnels, pumpkin picking, family-friendly sights and even a bit of "door-to-door" trick or treating—all socially distanced, of course.
This new event is combining the appeal of a food festival with all the creepiness of a haunted trail—and all from the safety of your car. The Bite LA is a Halloween-themed food crawl complete with a virtual campfire and "creature safari," where you'll drive from station to station and costumed ghouls and other dark entities will serve you eight bites along the way. (Still hungry? There'll be additional food for purchase, plus vegan, vegetarian and gluten-free options.)
For more ideas on how to have a spookily safe Halloween this year, read the full TimeOut article
here
.