One of the most asked questions we get when working with sellers is, "Should I renovate my house before listing it?" While popular television and streaming home improvement shows have made the idea of renovating and "flipping" for profit very alluring, there's a lot to consider before taking on a renovation project.
In Los Angeles, kitchen and bathroom renovations are the most popular and Accessory Dwelling Unit (ADU) or garage conversions are on the rise to create additional living spaces. But . . . will these types of renovations give you the return you're looking for?
The truth is some renovations are not worth the effort as they will not raise your home's value. Others, the ones we'll go over in this article, can attract buyers who are looking for move-in ready homes with upgrades.
Whether or not you should renovate before selling is based on how marketable your home is in its current condition (compared to other homes being sold at your ideal list price in the area), as well as your timeline and budget.1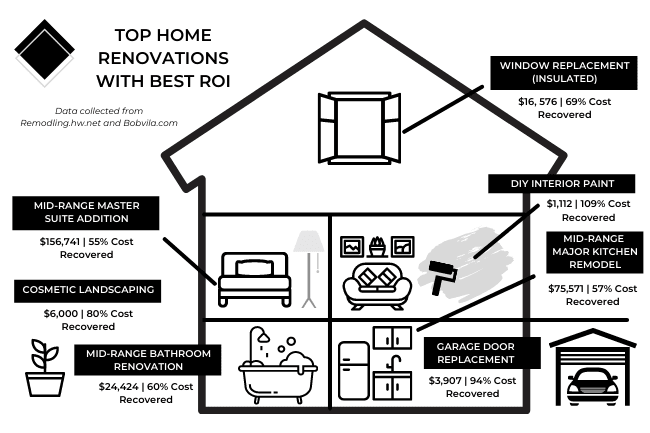 Source:

Remodeling HW

"Key Trends in the 2021 Cost Vs. Value Report" and

Bobvila.com
Count the cost.

A full home renovation in Los Angeles can cost anywhere from $100-$400+ per square foot

2

, according to

Sweeten

, a free renovation platform that matches you with a vetted contractor based on your project needs. Here's a more detailed breakdown:
Budget kitchen remodel:

$135

psf or

$26,993

(based on a 200-sq-ft kitchen)

Mid-grade kitchen remodel: An average of

$50,000

High-end kitchen remodel:

$100,000

+

Budget bathroom remodel:

$15,000

—

$25,000

(based on a 35-sq-ft space)

High-end bathroom remodel:

$55,000

+

Mid-grade master suite addition:

$503

psf or

$193,390

(based on a 24′ x 16′ space)

Accessory Dwelling Unit (ADU): Starting at

$50,000

for a conversion and

$125,000+

for ground-up construction

*Cost estimations provided by Sweeten.com
Because many homes in the Los Angeles area are selling for over-asking price, investing in quality renovations by a professional contractor could be worth doing, if your budget allows.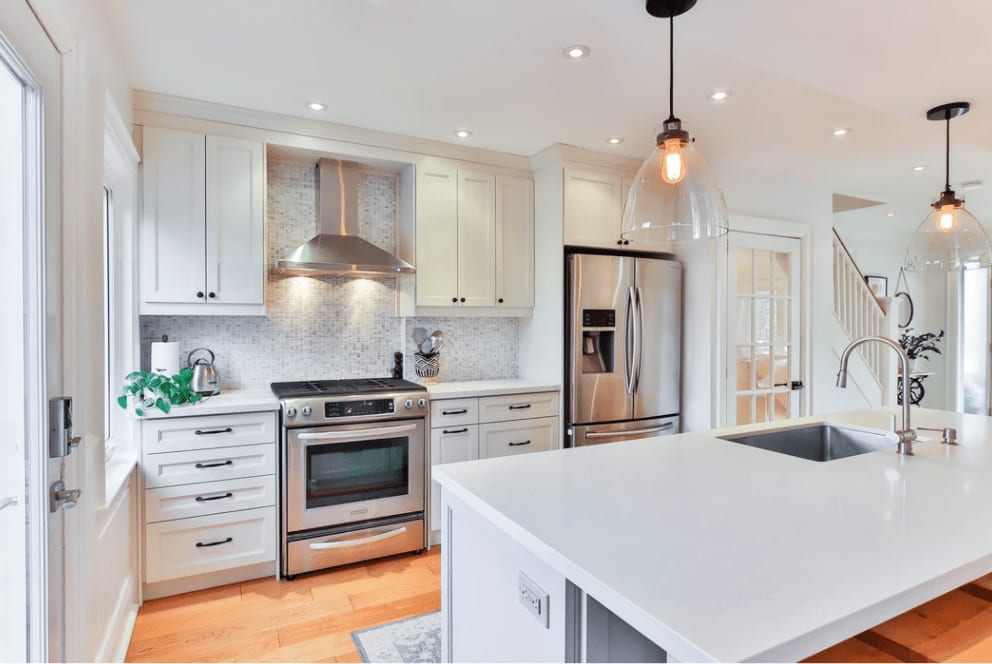 Determine the renovations that best fit your budget and expected return on investment.

Use the guideline from

Legaleaglecontractors.com

to figure out how long your particular project is expected to take based on whether it's a major overhaul or a cosmetic makeover. Cosmetic makeovers, such as interior painting, replacing countertops and new landscaping, typically tend to give the best return on investment and take the shortest amount of time to complete.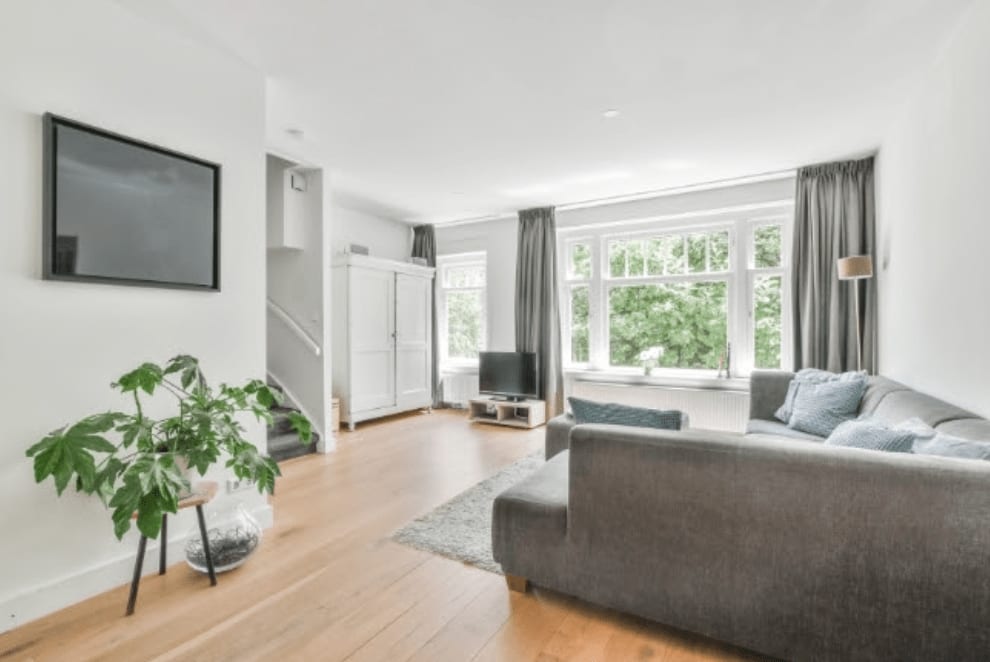 Photo from Canva.com
After deciding what renovations to move forward with, create a timeline.

Connect with your real estate agent and choose a tentative date your listing will go live. From there work backwards to determine how much time you actually have to complete the projects. It's always wise to add a little cushion to your timeline in the event you experience delays, which have become more common with material shortages due to the pandemic.
You will need to schedule appointments with the contractors who will be doing the work so that they can take a look at your home in person and propose what needs to be done, how long it will take and at what price. Do not skip out on this part of the process.
5 Surprisingly Easy Home Renovations To Do Before Putting Your Home on the Market (with Best Returns on Investment)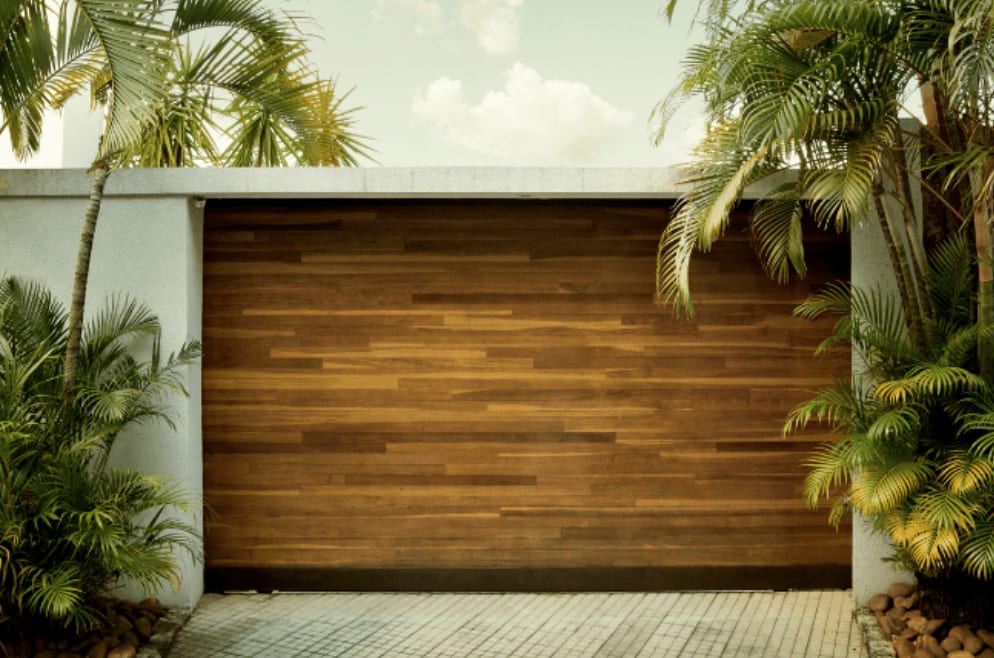 Photo from Canva.com
Garage Door Replacement.

Did you know swapping out your garage door is one of the best ways to increase your home's value? According to experts, this cost-friendly renovation produces one of the greatest returns. When replacing your garage door, consider trendy and creative options, but keep in mind the finished look should complement your home's style.

Recoups up to 94% of costs.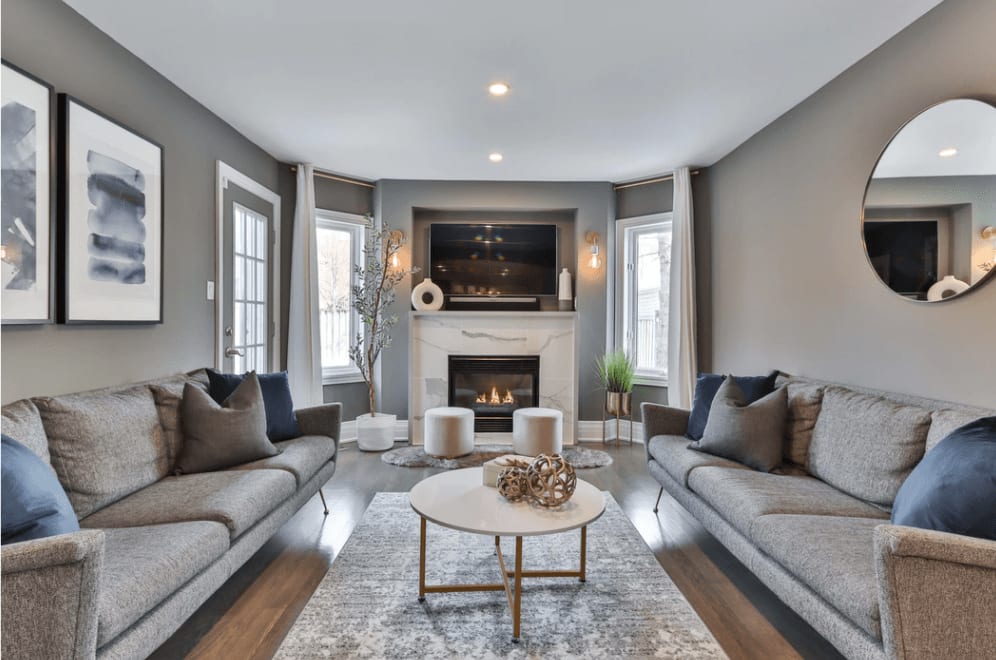 Interior Paint.

Another cosmetic renovation that you can either do yourself or contract out to a professional painting company is hitting the refresh button on your home's interior walls. If you're looking to appeal to a wide variety of buyers, opt for neutral tones that make your space feel clean, light and bright. Add a pop of color and give your space character with other decorative accents such as pillows, vases and artwork.

Recoups up to 109% of costs.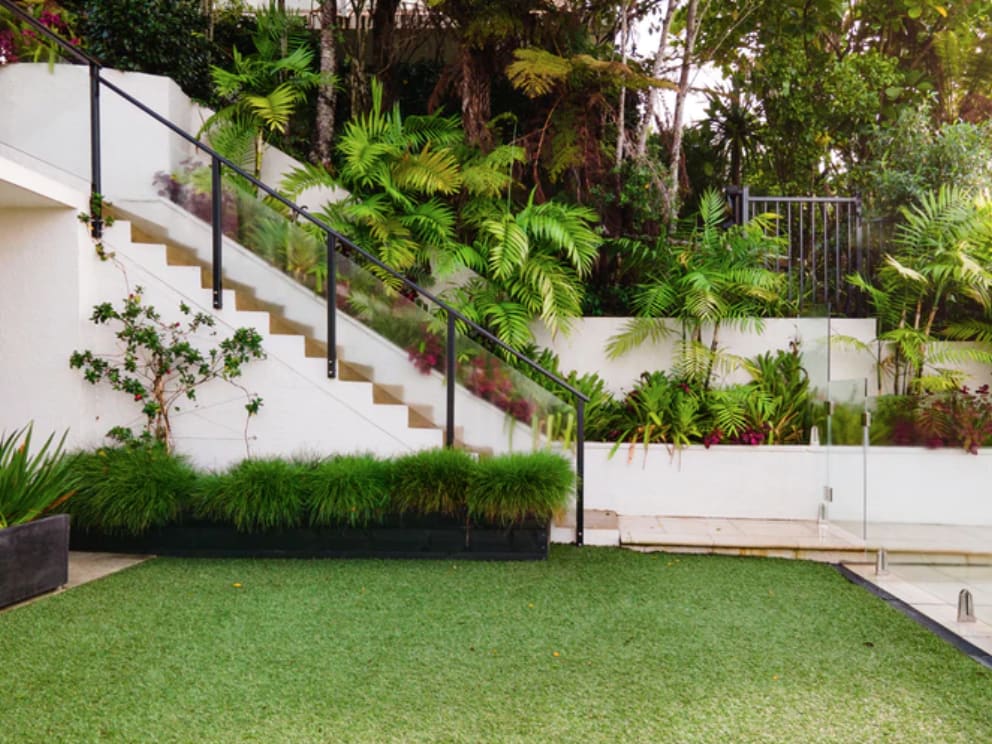 Photo by:

Greg Nunes

on Unsplash
Landscaping.

You only get one chance to make a first impression! If your curb appeal is lacking, you may turn buyers off before they step through the door. Maintaining your lawn, trees and shrubs and sprucing it up with additional plants is one of the most inexpensive touch-ups you can do to your home.

Recoups up to 80% of costs.

Window Replacement.

If your home is flaunting single pane windows with the metal frames . . . it's time for an update. Give your buyers the gift of energy efficiency by replacing old windows with double pane, insulated windows.

Recoups up to 69% of costs.

Kitchen & Bathroom Renovations.

OK, so they can be some of the most costly renovations to tackle, but they certainly make the greatest impression. If you're not looking to invest $75,000+ in your kitchen and bathroom(s), consider doing smaller cosmetic renovations such as updating your countertops, backsplash, floors, and hardware.

Recoups up to 60% of costs.
Interested in selling this year? Consult with our team before tackling major home renovations! Some of the repairs you think are necessary may not be dealbreakers in today's hot housing market.
Sources Cited.
Brock, M. (2020 December 18). Should I Renovate My Home Before Selling?

Rocket Mortgage.

Retrieved from

https://www.rocketmortgage.com/learn/should-i-renovate-my-home-before-selling

Wang, C. (2021 July 13). 2021 Home Remodeling Costs in Los Angeles. Sweeten. Retrieved from

https://sweeten.com/renovation-cost-guides/home-renovation-costs-per-square-foot-in-los-angeles/