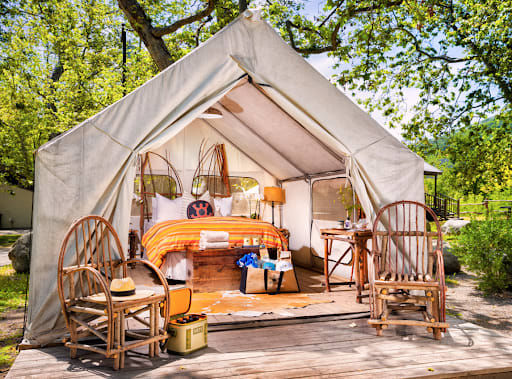 Sleeping under the summer stars. Enjoying the great outdoors. Embracing nature. It all sounds wonderful, until you remember that sleeping on the ground isn't exactly comfortable and that hot showers are a good thing.

In Southern California, you can have the best of both worlds — being one with nature during the day, and spending the night in a plush bed. All you need to do is make a reservation at one of the area's picturesque glamping spots.

From safari-style tents to shiny Airstreams to towering treehouses, we've listed our favorite luxe camping spots within a 2-hour radius (on a good traffic day) from Los Angeles.
Lions Den | Mt. Laguna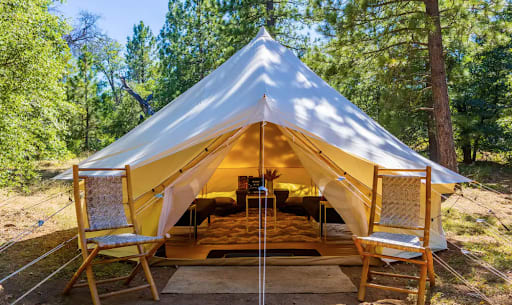 Nestled in the Cleveland National Forest, the Lions Den offers outdoor sleeping quarters with all of the comfort of being indoors. The bell tent features a queen mattress & sofa bed, a bell tent lounge with two additional sofa beds, a double tree tent and a two-story triple tree tent. Two trillium hammocks are also included. You'll also be able to take hot showers and make use of the camp kitchen for meals. Escape to the serenity and nature of the forest without having to rough it!
Magical Dream Dome Treehouse | Topanga Canyon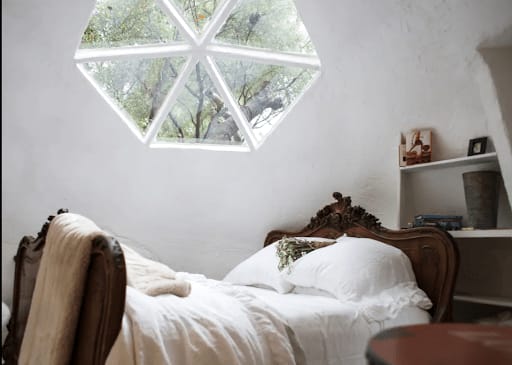 The Topanga treehouse has achieved almost a perfect Airbnb guest rating (4.99 stars) from over 200 thrilled guests, and features classic, country-chic interiors, a full sized bed, a fireplace and outdoor decks. With absolute privacy guaranteed. This incredible treehouse is ideal for a romantic retreat, and is located within walking distance to Topanga State Park. It's hard to believe up here that Santa Monica and Malibu are both just ten minutes drive away.
Fun, Chic Glamping Cabin | Topanga Canyon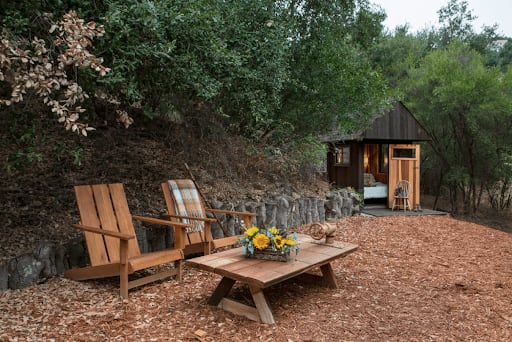 Relax under beautiful California oaks and soak up the nature! This little cabin is in a very private slice of Topanga canyon with access to 30-40 minutes of private hiking right outside your front door. If you are looking to escape the city and disconnect this is the perfect place to recharge and relax. The cabin runs off solar panels, has wifi, a nespresso machine and a camping refrigerator!
Bluebird Tiny House | Palomar Mountain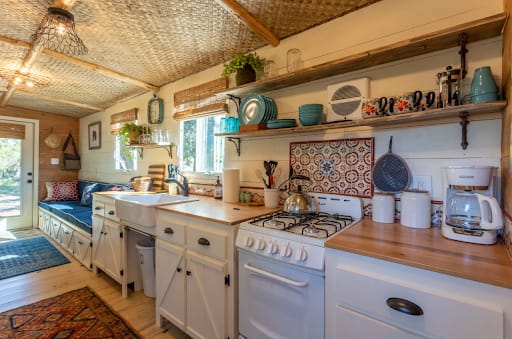 Venture down to San Diego County to feel a world away in this adorable tiny house made out of a vintage horse trailer. It's set on an 85 acre private nature reserve in a remote forest meadow. Here you'll enjoy a full kitchen, spa inspired bathroom, a deck the length of the "house," a hot tub under the stars, a fire pit and even a fenced area for your pets to roam. Spend the day hiking, biking and exploring nature and then unwind in a camping atmosphere that's full of comfort.
Learn More
Train Caboose Cornell | Near Malibu
If you've ticked off glamping in a tent, a yurt, a yacht and a hut, why not try a train? This historic caboose offers such a memorable experience just outside of Malibu. Your very own carriage boasts a king bed, bathroom, fridge, microwave, coffee maker and an outdoor deck with seating. Sit outside and breathe in the tranquility of the Santa Monica Mountains. From Agoura Hills to the heart of LA it's a 40 minute drive.
Creekside Eco-Luxe "Be Well" Yurt | Idyllwild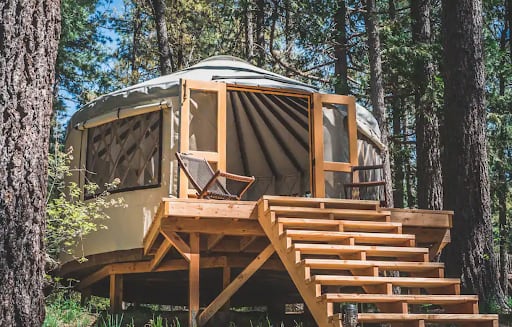 Peace and rejuvenation is what you will find at the Wildland "Be Well Yurt". Located along Strawberry Creek, the land offers access to nearby hiking trails, with a spectacular view of Lily Rock just down the street. Inside you will find soothing neutral tones and a commitment to eco-friendly, organic, & upcycled materials. The "Be Well Yurt" is a romantic haven for deep relaxation with forest views.
Hawks View House | Joshua Tree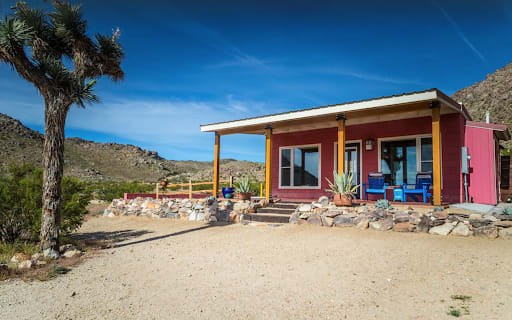 This secluded and romantic cabin is one of the best ways to experience an outdoor getaway in Southern California but still have a comfortable experience! Hiking is available right outside the front door, and this beautiful cabin offers a back porch shower, fire pit and stunning views in every direction. Do yourself a favor and read some of the 150+ glowing reviews, because you'll be sold to book this unique weekend getaway!
Treehouse Adventure | Brea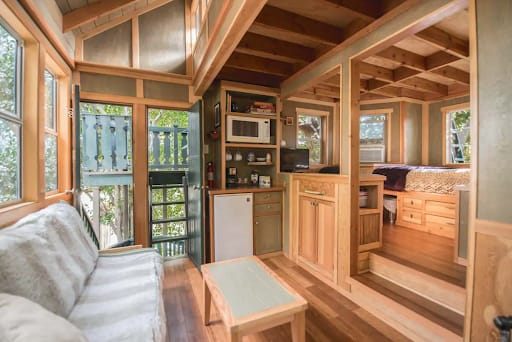 One of Airbnb's highest-rated Southern California glamping offerings, this exceptional treehouse experience in Brea can't be missed. Just 11 miles from Disneyland, the one bedroom treehouse is cute and cozy, with everything you could need to feel right at home. Air conditioning, comfortable bedding, kitchen appliances, TV, wifi, a large deck and even a slide await you. Downtown Brea is just five minutes stroll away, as well as a number of parks, restaurants and shops.
El Capitan Canyon | Santa Barbara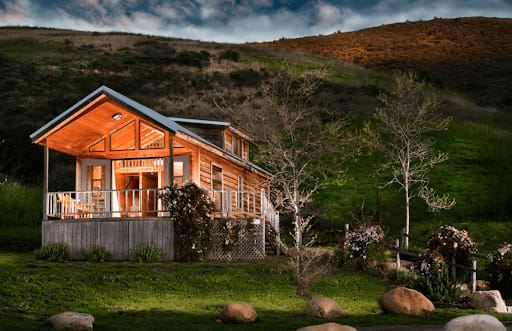 This iconic destination has all of your glamping needs – with loads of different tent options available (and its only about 90 minutes from L.A). You can choose between safari tents, yurts, regular tent camping spots, and there's even wood cabins for those that want to avoid tents completely. You could bring your own firewood and camp out fairly traditionally, or make use of the Canyon Market & Deli for meals, shopping, and entertainment. There is even a spa for the ultimate luxurious experience. The tents here are well equipped with hotel-style features and furnishings. This campsite is also family-friendly, as they have many accommodation options that cater to larger groups too. El Capitan Canyon is set on 300 acres of lush wilderness along the Pacific coast.
COMING SOON: AutoCamp | Joshua Tree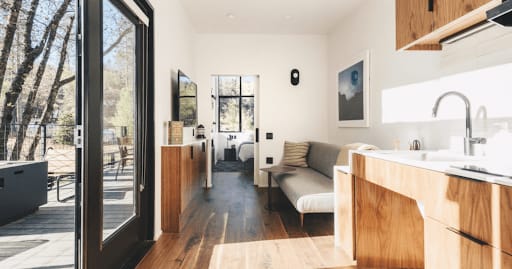 Slated to open in December 2021 (and now taking reservations) is AutoCamp Joshua Tree, located about 10 minutes from Joshua Tree National Park. With 55 units that radiate out from its Quonset hut–inspired clubhouse, this AutoCamp is every bit as luxurious as the others but also features several desert-friendly features. Have a drink at the open-air bar outfitted with misting fans while you take in the ancient beauty of the landscape.

Everything here has been designed to have minimal environmental impact, from low-water-use technology to a heavy reliance on solar power. And it's all close to top-notch mountain biking, hiking, rock climbing, guided ATV tours, falconry experiences, and cool attractions such as Pioneertown.
Whether you are looking for glamping near Los Angeles, San Diego, Joshua Tree National Park, or California coast, there is a luxurious tent calling your name! These spots make for a great staycation, when you want to get in touch with nature, without sacrificing style and comfort.