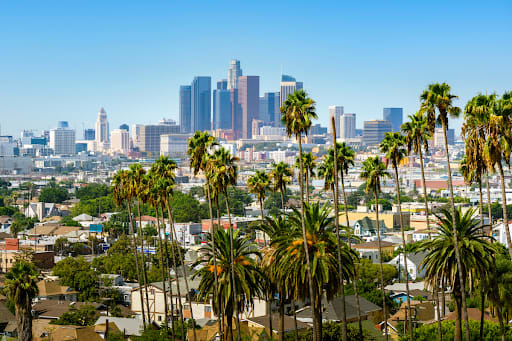 With the exception of the past few weeks, mortgage rates have started to slowly climb this year above the record-breaking lows we experienced in 2020. Many homeowners planning to move are wondering how high rates will get and may feel like they've missed their chance to score on their next mortgage. Here's what economists are predicting, what these changes mean for buyers and why you still have time to score a historic low rate.
Rates May Remain Above 3%
At the end of 2020, economists forecasted that rates would break the 3% range in 2021, but not rise much higher than 3.1% to 3.4%. So far, those predictions have proven correct.
However, it's important to keep in mind that rates are still well below where they were at the beginning of 2020, when they closed in on the 4% range. The silver lining is that rates are expected to remain fairly steady throughout 2021—not moving much higher than the low 3s.
"Rates are more likely to rise than fall, but it will be an inconsequential move," says Lawrence Yun, chief economist at the National Association of Realtors. "The growing economy will raise the mortgage rate to around 3.1%, which is still near historic lows."
Refinancing Will Slow
As mortgage rates continue to climb, fewer homeowners will be able to save money by refinancing their mortgages. In February, 18 million homeowners were refinance eligible, meaning they could reduce their interest rate by 0.75% or more, according to data from Black Knight, a mortgage data and analytics provider. But as rates surged above 3%, the number of eligible candidates shrunk to just 12.9 million homeowners—a 30% reduction in less than a month.
How This Affects Your Payment?
Although a few percentage points is not a shocking jump, it can add hundreds of dollars to your monthly mortgage payment. In the following scenarios, you can see how even a small jump in interest rates can impact the cost of a mortgage. These figures do not include insurance or taxes. For someone with a $800,000 home loan, a 4-basis point jump will cost them $185 more per month and $66,240 more over the life of the loan on a 30-year, fixed-rate mortgage.
| Loan Amount | Mortgage Rate | Monthly Payment | Total Interest |
| --- | --- | --- | --- |
| $800,000 | 2.67% | $3,232 | $363,567 |
| $800,000 | 3.1% | $3,416 | $429,807 |
| $800,000 | 3.3% | $3,504 | $461,311 |
Higher rates can also reduce buying power, especially if home price appreciation continues to increase in 2021.
Taking Advantage of Today's Low Rates
After creeping up for seven consecutive weeks, in April average mortgage rates dropped for the first time since February (See graph below). Experts think mortgage rates will hover around 3% this month – extending the window for borrowers to lock in a low rate on a loan of refi. But this drop is a normal fluctuation rather than a long-term trend. Rates are still likely to rise over the long haul.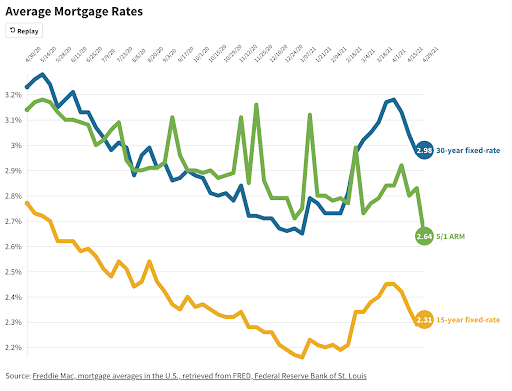 If you're planning on refinancing, now would be an excellent time! Contact our team for a referral to a local lender. Likewise, those who plan on listing their home can take advantage of this slight dip when searching for a new home. This combined with low inventory and rising home prices, means homeowners today are sitting in an optimal seat to sell.
Looking Beyond 2021
Freddie Mac recently released their Quarterly Forecast, which notes:
"We forecast that mortgage rates will continue to rise through the end of next year. We estimate the 30-year fixed mortgage rate will average 3.4% in the fourth quarter of 2021, rising to 3.8% in the fourth quarter of 2022."
While buyers everywhere want to secure the lowest rate possible, it's important to remember today's rates are still much lower than the historic norm. If you're thinking of moving or relocating out of the Los Angeles area, don't miss the opportunity to secure a great rate on your next mortgage. Contact our team to so we help you get ready to sell while rates are still low!