November has begun and Thanksgiving is approaching! For anyone with traditional plans but perhaps no longer the will to cook, here's a sampling of what LA has to offer!

Who's Cooking? Check out these 10 fabulous restaurants that dine-in as well as take-out options for cozying up at home!
Craving the standard fix? Thanksgiving in it's All-American traditional glory? We'd say Playa Provisions has just that. Chef Brooke Williamson will be serving turkey with all the fixings, plus, you guessed it — sweet, sweet pie.
Price: Dinner for two ($75) Dinner for six ($200)
Orders must be placed by November 23 for pick-up on November 25 or before 2 p.m. on Thanksgiving day.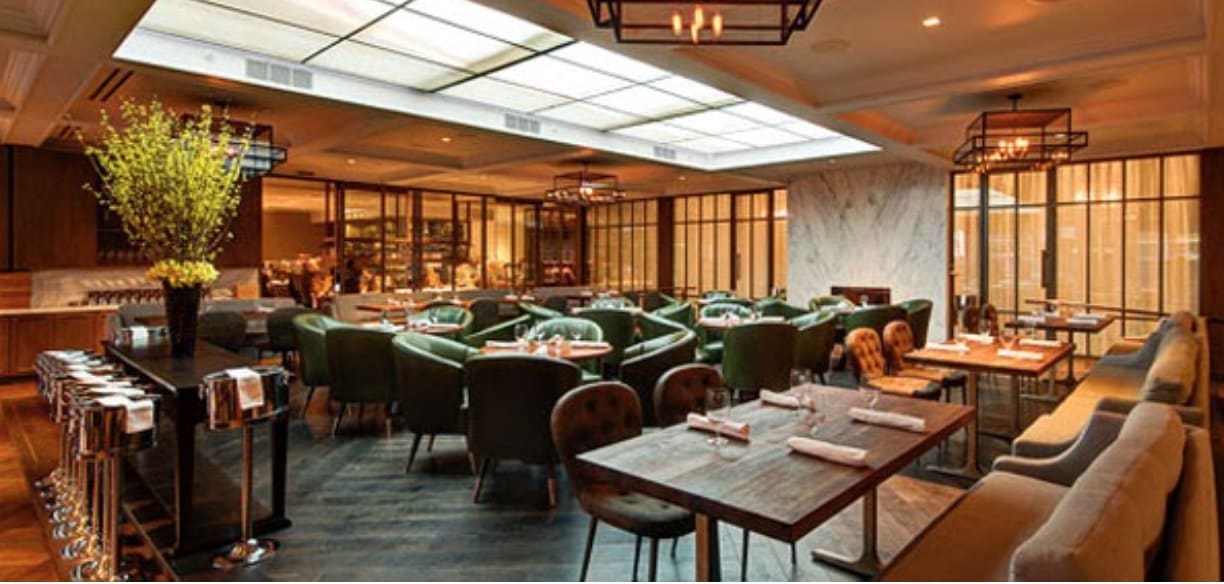 It's the most swankified place in town! The LA area has Baltaire smack dab in the middle of their radar for a decadent steak affair. But just in time for Thanksgiving, this steakhouse is serving up turkey, take-out style! Their package includes a ten-pound Mary's free range turkey accompanied by gravy and sourdough stuffing, butternut squash bisque, salad, olive oil whipped potatoes, and more. If you so choose to omit the bird, enjoy all the sides including add-ons like black truffle mac and cheese (excuse us while we drool) and chocolate chip cookies by the dozen. And if you're picking up these to-go meals for the whole family, Baltaire has backed you up with instructions and equipment to make you look like an experienced host (wink, wink).
Price: $495 Thanksgiving menu (serves six to eight), $155 Everything But The Turkey menu (serves four). Supplements $36-$115.
How to order: Order online by emailing hello@baltaire.com or by phone 424.273.1660 for pick up on Wednesday, November 25.
Bonjour! This Cali-French bistro is serving up ready-to-heat feasts that come with cooking instructions for your Thanksgiving soiree. The parisian-inspired menu prepared by Chef Brittany Cassidy will include: cornbread stuffing, turkey roulade with citrus-cranberry sauce, sticky toffee pudding, and more.
Pre-orders begin next week for pick-up on Wednesday, November 25.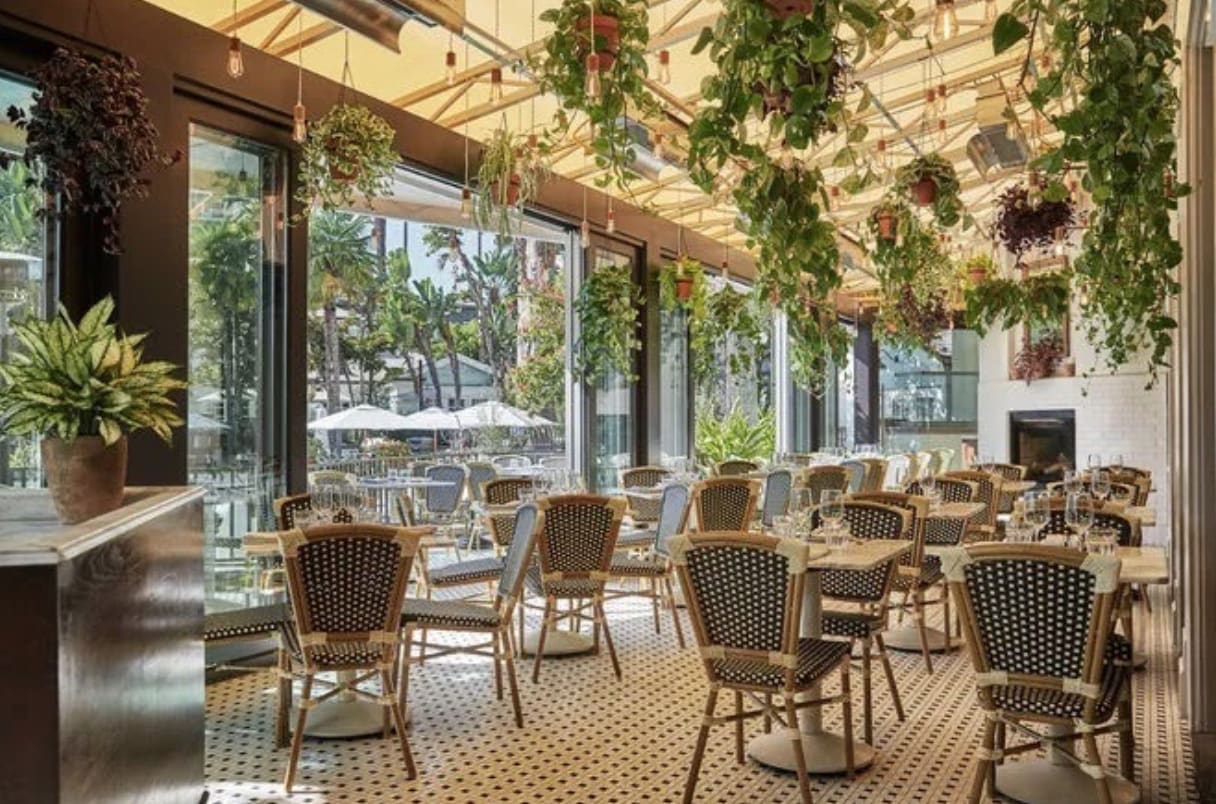 Offering a selection for all, Santa Monica's FIG has a beautifully green Thanksgiving menu sourced from the freshest local harvests. Did you know, Executive Chef Jason Pendergast has long standing relationships with local farmers, ranchers, and fishermen, that he can tell you where livestock was raised and what their diet consisted of? Even where a fish was caught?! FIG will be serving a holiday feast with unique sides that include: Weiser Farms carrots with pickled raisins and preserved kumquats, sausage and kale dressing, roasted sweet potatoes laced with winter-spiced marshmallows as well as an herb-brined turkey, prime rib, and pumpkin or apple pie.
Price: $375 Thanksgiving feast (serves eight to ten); $24-175 a la carte sides and entrees (serves six to eight).
How to order: Order turkey by November 20 and sides by November 25 via Tock.
Just you and a plus one? Manuela's is offering Thanksgiving dinner options for parties of two. This downtown LA fave is NOT skimping out on the goods. Choose from your choice of turkey or ham in addition to sides that include: cream biscuits, yukon mashed potatoes and gravy, smoked chicken sausage stuffing, and ham-braised green beans. And of course, they'll have dessert. Manuela's will also be offering both vegan and vegetarian options.
Price: $100 for Thanksgiving supper for two.
How to order: Place takeout orders via Tock by Tuesday, November 24 at 5 pm for pickup on Thanksgiving between 2 p.m. and 5 pm.

The perfect combo. A Two-Star Michelen Chef (Josiah Citrin) crafting aromatic arts on the sacred grounds where the Hollywood elite would gather. None-other than Frank Sinatra convinced Johnny Harlow to open this restaurant in 1962 and would regularly play piano while locals dined. This Thanksgiving, Chefs Josiah Citrin and Hans Rockenwagner will be joining forces to prepare a multi-course menu that includes: Dear John's famous Caesar salad and shrimp cocktail as well as a roasted free-range turkey with apple-brioche stuffing and pomegranate gravy, and ribeye. Sides will include: praline pecan yams, French cranberry sauce, and yukon potato puree. Dessert will showcase mom's apple crumble pie with McConnell's vanilla bean ice cream or pumpkin pie, salted caramel, and creme chantilly.
Price: $95 per person with $75 deposit required.
How to order: Order for pickup on Thanksgiving Day via Tock.
Opa! This Mediterranean style tavern in the heart of Malibu is giving us the pleasure of dining in or out, Greek style. Taverna Tony has great pride in carefully sourcing the freshest ingredients and baking their home-made bread and pita daily. They will be open and ready to serve this Thanksgiving featuring their traditional menu along with a fixed price, multi-course menu that includes a variety of dips along with potatoes, orzo, and chicken souvlaki. Additionally, they offer many vegetarian dishes with the notice that some can be prepared vegan.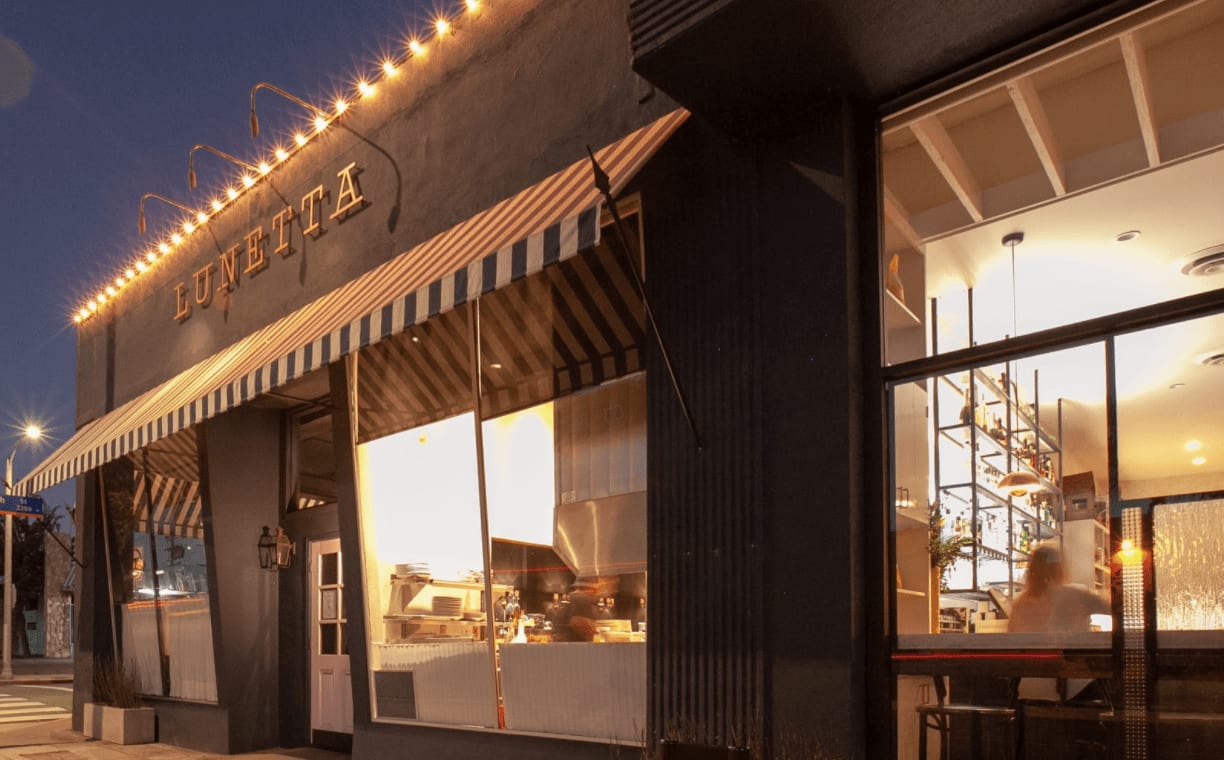 A neighborhood diner for All Day, and fine dining for At Night. Where?! Look no further than Lunetta. Their Thanksgiving feast will flatter your taste buds with the most elaborate multi-course menu. Buckle up! For the starters: Maine diver sea scallops, the garden of organic hearts salad, roasted chestnut soup, and red deep sea crab cake. For the main: oven-roasted all-natural mary's heritage maple herb turkey, six-hour slow cooked osso-buco, and pan roasted atlantic black bass. For the sides: loaded potato gratin, rum pineapple candied yams, blistered brussels sprouts, and wild rice with niman ranch bacon. For the grand finale: dark chocolate ganache tart, french apple pie, and pumpkin pie. Boy oh boy — have fun choosing one of each!
Orders need to be placed by November 20 and can be picked up on Thanksgiving day between 12 p.m. and 5 p.m.
Cooking for those too busy to cook is their motto! Veteraned by 20 years of service in the City of Angels, Marmalade is dedicated to crafting eclectic, California-inspired dishes for their many guests. Order up! Family-style Thanksgiving includes: traditional oven roasted sliced turkey, cornbread stuffing, sauteed green beans, golden yukon mashed potatoes, turkey gravy, mixed green salad, cranberry sauce, and your choice of pumpkin or apple pie.
Price: $139.99 (serves four to six), $189.99 (serves eight to ten)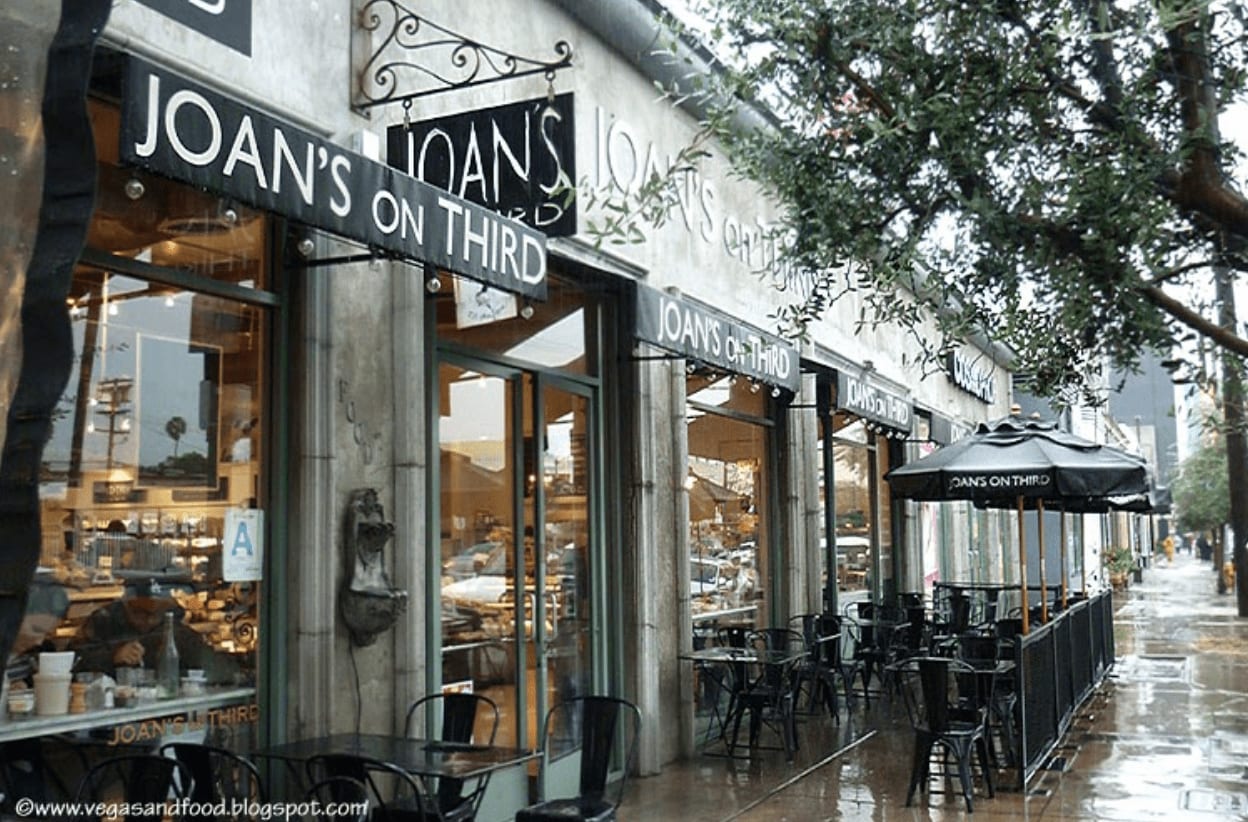 The place that put Third Street on the map! One of LA's most in-demand caterers! Joan McNamara has her restaurant's Thanksgiving menu ready to go and it will include: oven roasted whole turkey or oven roasted turkey breast, zucchini fritters with chili aioli, butternut squash and pear soup, butter lettuce salad with dried cranberries, french feta, and Joan's vinaigrette, as well as classic creamy mashed potatoes, maple brown sugar yams, grandma's old-fashioned stuffing, roasted autumn vegetables, traditional cranberry sauce, Joan's turkey gravy, macaroni and cheese, rustic dinner rolls, rustic apple pie, and pumpkin pie.
To Place Your Order: call 323.655.2285 by 12 p.m. on Saturday, November 20.
Please Note: Joan's on Third expects to sell out of some items sooner than the deadline. Pick up is at the restaurant location but delivery is also available.