Thinking of Relocating? Here's How to Simplify the Process of Buying Out of State
California is on the move! The pandemic is not just forcing people to reevaluate finances but reconsider living situations. As a result, more people than ever are relocating out of our state. Most people find the experience of buying a home in a unfamiliar area to be particularly stressful. Typically, you can't pop by to see the neighborhood at midnight. And you'll probably have no idea how hellish the rush hour traffic is. Understandably, you might feel that you're rolling the dice on a new home— setting yourself up for buyer's remorse. If you're looking to relocate, here are some tips to simplify the process and feel confident about your big move.
Get a Referral
This is a big one. When you're relocating, you need to rely on a buyer's agent to be your eyes and ears, so it's imperative to find someone you trust to have your best interests at heart. Don't choose an agent at random. Instead, talk to a real estate professional in your current community (ehem, Lisa Kirshner Properties Team) and ask for a referral to an agent in the community where you'll be relocating. We're part of a large network of Realtors that sell one out of every eight homes in North America. Wherever you next move takes you, we can connect you with an experienced buyer's agent who will offer the same level of care and attention to detail as our team.
Enlist a Relocation Specialist
Yes, there's such a thing as a relocation specialist. Agents who are experienced in relocation will go the extra mile, helping you take care of all the details you'd handle if you had the time and knew the community. They'll help you find financing, close on your home and connect you with local vendors and contractors. In some cases, they can even negotiate better rates on things like moving services, and advocate for you if anything goes wrong.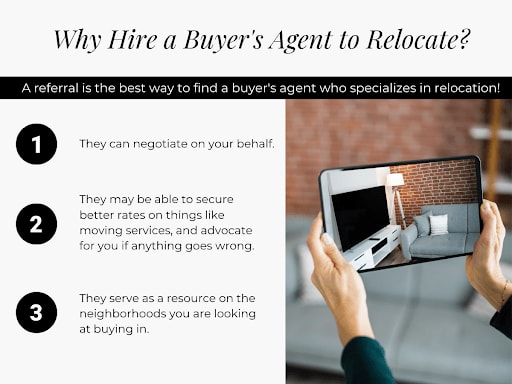 Do Your Research—and Then Do Some More
You should always do loads of real estate research before purchasing a home, regardless of whether it's 30 miles away or 3,000. Of course, you're going to have a real estate agent to help you find the right home, but don't just count on that. Be your own advocate, fire up Google, see what you can learn—and give yourself as much lead time as possible. Browse sites like
Urban Institute
and
the Census Bureau
to discover important details about a community's schools, weather, economic stability, local crime rate, and much more.
Include Property Restrictions in Your Research...
Ask your agent to supply you with the phone number of the local building authority and the homeowners association (HOA), if applicable. Contact both agencies and find out about any restrictions that the property may be subject to. For example, the zoning board or the HOA may not allow you to put up a fence or install a swimming pool. You'll want to know the restrictions before making an offer on a house.
Be Wary of Scammers
Unfortunately, buying from out of state opens you up to the possibility of getting taken for a ride. In today's digital age it's so easy to put something fake online. You have to be sure the person is actually real and the home is real. One common scam to watch out for: The swindler will create a listing for a house that's not actually for sale, use stolen pictures, and advertise it at a price that's too good to be true. After an out-of-state buyer responds, a fake "bidding war" takes place. When you put down earnest money to secure your offer, the scammer takes off with your down payment. Avoid situations like this by working with an agent you trust.
Take a Trip
We recommend taking a quick trip to your new city to see the most promising listings in person. Your agent can always use a video app (e.g., Skype or FaceTime) and take you along for a tour. But there's a lot you can't tell from FaceTime: smells, sounds, and that hard-to-describe-but-all-important gut feeling that can best be described as "vibes." If traveling to your new home isn't an option due to work, family or COVID-19, ask your real estate agent to provide a virtual tour of your favorite homes, the neighborhood and nearby amenities to get a feel for the area.
Ask the 'Stupid' Questions
If something is confusing, don't hesitate to ask questions, even if they seem silly. Regardless of whether you've bought and sold property before, the process in another state will probably be different. For instance, earnest money (called a deposit in some places) can range from a few hundred dollars to 10% of the purchase price of the home. Some states do inspections before going into contract, some afterward. Some closings happen just weeks after going into contract, and some take months. If something seems fishy, it could be standard process, or you could have uncovered a potential problem with your purchase. Asking lots of questions will help reveal any potential issues.
Schedule an Inspection and Try to Be There
Inspections may cost you up to a couple thousand dollars depending on the scope of inspections and size of the property, but doing so could save you from buying a house with hidden problems. If possible, we recommend attending the inspection so you can really understand the issues. Most inspectors are happy to teach new homeowners about regular maintenance they should be doing and show them small things that won't affect that sale, but should be addressed. This is especially important if you're moving from sunny California to Colorado or somewhere rural that actually experiences winter and needs special maintenance (e.g., heat cables , plowing, winterizing).
Make Offers Electronically & Request a National Title Company
So you can't be there in the flesh to sign a pile of paperwork. No biggie—these days, remote closings are becoming increasingly common. One pro tip, though: Work with a title company that has a national network, so you can be sure it operates in both your current state and your new state. Then you'll either pop into a local office or pay a notary to come to you.
Set Up Utilities
An important, often overlooked step! No one wants to arrive at their new home after a long drive to discover the house has no electricity or running water. To ensure a smooth transition, contact the utility companies two to three weeks before you move, and send a deposit to ensure that utilities are switched on when you arrive.
Once you've got the keys (or at least, the closing paperwork) in hand, the really fun part starts: your cross-country move. Bon voyage!