Love is in the air this February! All sorts - Affection for friends, family, significant others…you name it. And what better way to enjoy each other's company than sharing a delectable bite? Whether you're looking for an experience to accompany the menu or the comfort of your own private space, we're going to share our Top Ten choices for Valentine's Day Dine-In and Take-Out.
Ready… Set… Indulge!
1. Baltaire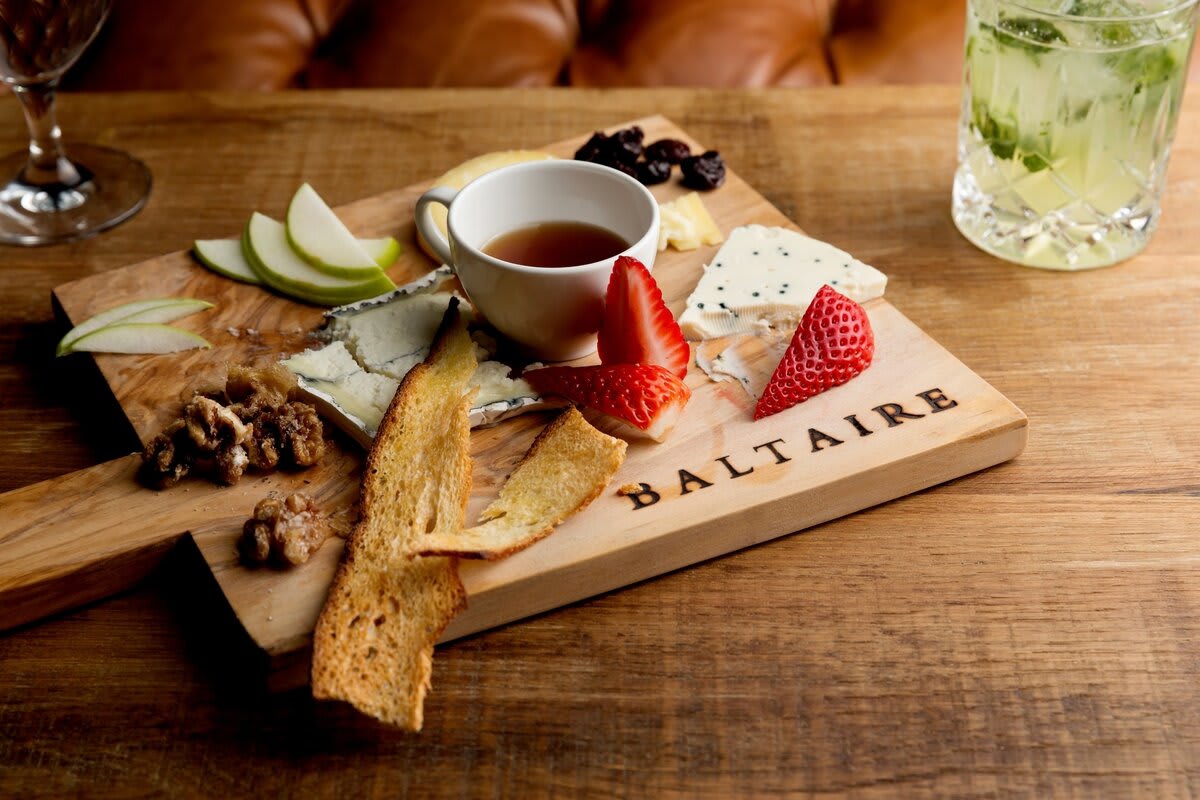 Courtesy of Baltaire
Located in the Brentwood area, this signature steakhouse is serving up a $220 four-course, prix-fixe menu for two. Dishes will include tuna poke, endive salad, roasted vegetables, two different desserts, and your choice of either Chilean sea bass or filet mignon and lobster tails! And to top it all off, the package is accompanied by a complimentary bottle of Champagne to toast the night.
Takeout and delivery are available!
2. Tsubaki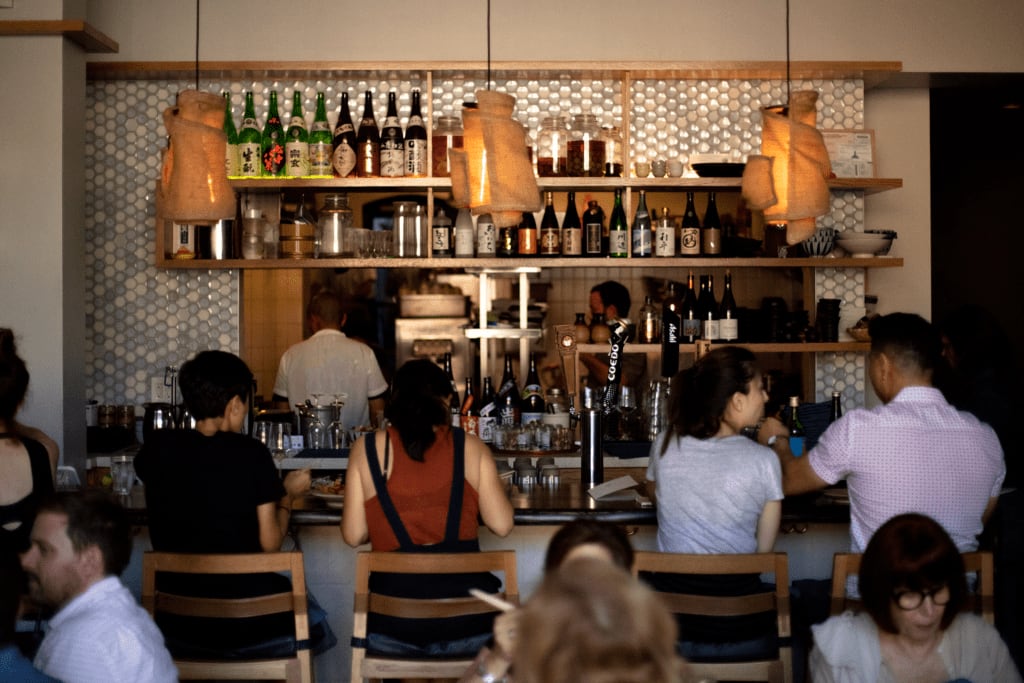 Courtesy of Tsubaki
This spot is take-out only but who can say no to crab…and a premium Japanese affaire?! Located in Echo Park, the neighborhood of Izakaya is home to Tsubaki, offering an entire Dungeness crab Valentine's Day dinner for two. This will include a whole steamed crab with ginger-nira butter, hamachi crudo, black truffle mushroom rice, crab broth miso soup and chocolate pudding for a total of $225.
Order take-out here!
3. Rossoblu
Courtesy of Jakob Layman
Another pick-up only location, nestled right in the heart of LA's Fashion District. But listen closely, if you're a sucker for baked clams/oysters, do yourself a favor and get this package! Not only does this Italian staple offer superb appetizers but they also throw down with an incredible house-made pasta. Their Valentine's Weekend Dinner will include tagliatelle and nini di rondine, plus baked oysters, ossobuco terrine, and bigger dishes like duck breast with braised red cabbage for a total of $79 per person.
Secure your order here!
4. American Beauty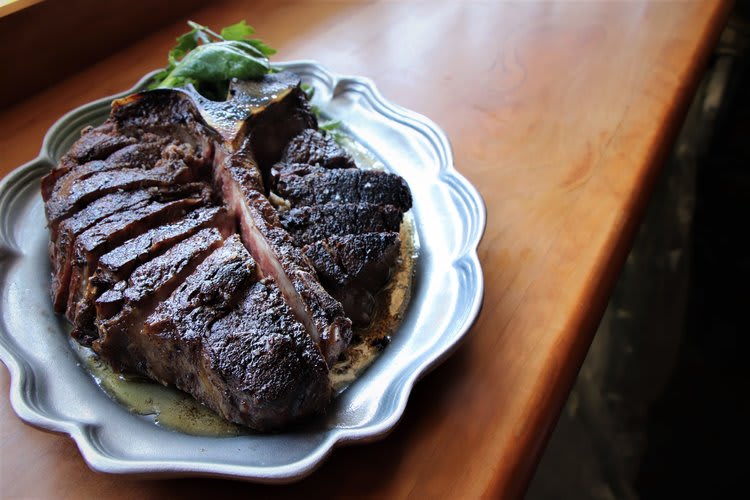 Courtesy of American Beauty
Craving the steakhouse experience? Located in Venice, American Beauty currently allows for sit down dining but it isn't confirmed their Valentine's Day special will also be offered for dine-in. Their mouth watering selection is definitely offered for take out! Flannery 14 Day Dry Aged "Jorge" ribeye with Porcini Butter and American Beauty Herb Salad is the star of the show for this package. Additional courses will include Bluefin Tuna Tataki, Ember Roasted Sweet Potato, Sprouting Cauliflower, followed by Chocolate Tart for Dessert. This dinner serves two and is priced at a total of $150.
Order details are here.
5. Connie & Ted's
Courtesy of Connie & Ted's
An old chip off the East Coast! Connie & Ted's Valentine's Day Surf & Turf menu will be priced at $125 per person. Their marine style selection will include classic Oysters Rockefeller, Nancy's Maine Sea Scallop Chowder, Creekstone New York Strip Sirloin, ½ Stuffed Maine Lobster, followed by a decadent Molten Lava Cake with candied kumquats and whipped cream. This fantastic feast also includes refreshments — prepared cocktails, wine & spirits! Connie & Ted's is located in the West Hollywood area. Reservations are limited.
To order take-out or reserve your table, Call Connie & Ted's directly.
6. Guelaguetza Restaurant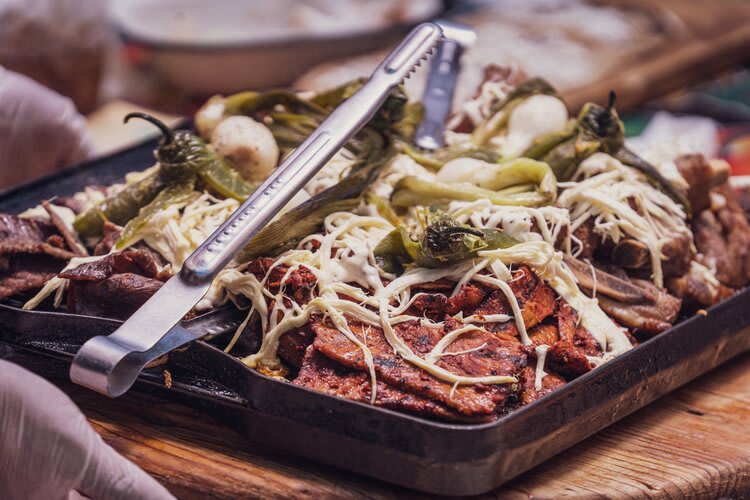 Courtesy of Guelaguetza Restaurant
Oaxacan-style anyone? LA is known for its incredible Mexican cuisine and if you're thinking "This is the best way to go" for Valentine's Day dinner, you have to try Guelaguetza Restaurant's award winning Moles surrounded by Mariachi, Trios and Marimbas! Their 5-course meal package is priced at $45 per person and includes Roasted Garbanzo Soup, Couscous Salad with Roasted Mole Brussel Sprouts, Baked Potato and Seasonal Roasted Veggies, your choice of entree (Tiger Shrimp or Spare Ribs), and Oaxacan Chocolate Cake. Mezcal cocktails and tasting kit are available for an additional fee. Guelaguetza is located south of Koreatown.
Pre-order at the Guelaguetza website
7. Inn of the Seventh Ray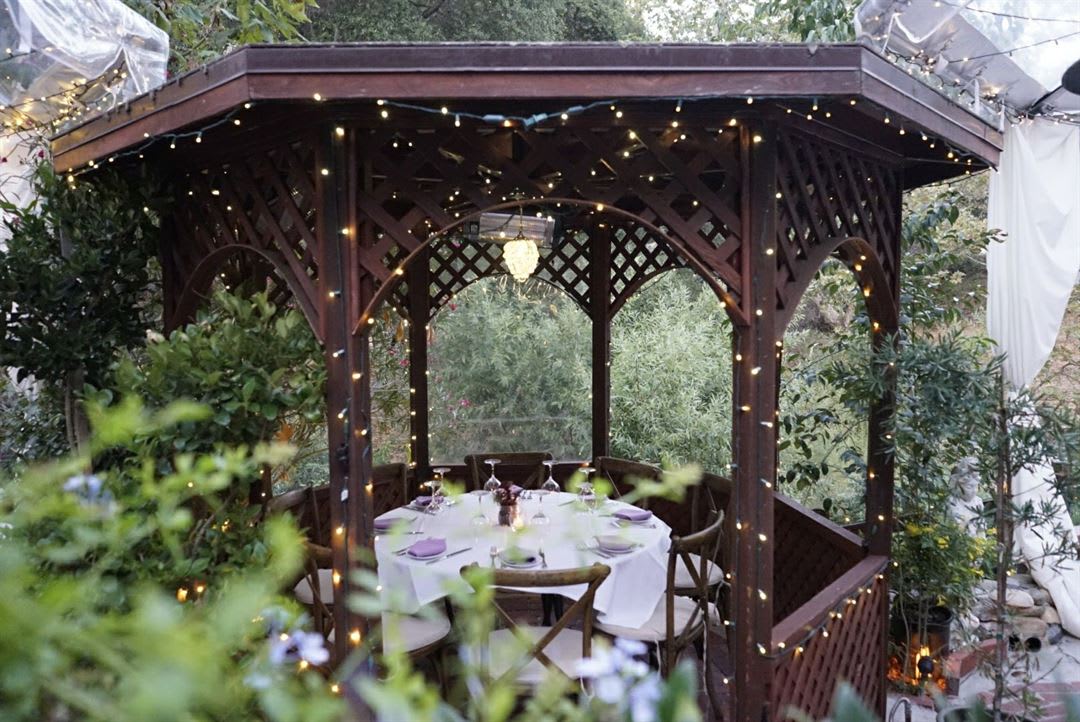 Courtesy of Inn of the Seventh Ray
Inn of the Seventh Ray is all about ambiance! This Valentine's Day dinner date is the perfect fairytale spot for dining on site and enjoying the evening. Located at a whimsically wooded venue in Topanga, dinner will consist of a five-course traditional or vegetarian menu for al fresco dining. Highlights include Arugula & Lady Apple Salad, Osetra Caviar and Brioche Toast, Truffled Brie & Salt Crusted Potato. Other selections include Wild Mushroom Soup, Vegetable lovers Medley for two or Seafood Lovers Medley for two, Black Truffle Risotto, Slow Poached Loch Duart Salmon, Wild Caught John Dory, Oven Roasted Filet Mignon, and Crispy Cauliflower or Crispy Vegan Faux-Duck. Dessert options are Banana Pudding, Vermont Maple Cheesecake, and Triple Chocolate Cake. Pricing is $150 for the traditional menu and $135 for the vegetarian menu. A wine pairing is available for an additional $50.
Book your reservation at the Inn's website.

8. Violet Bistro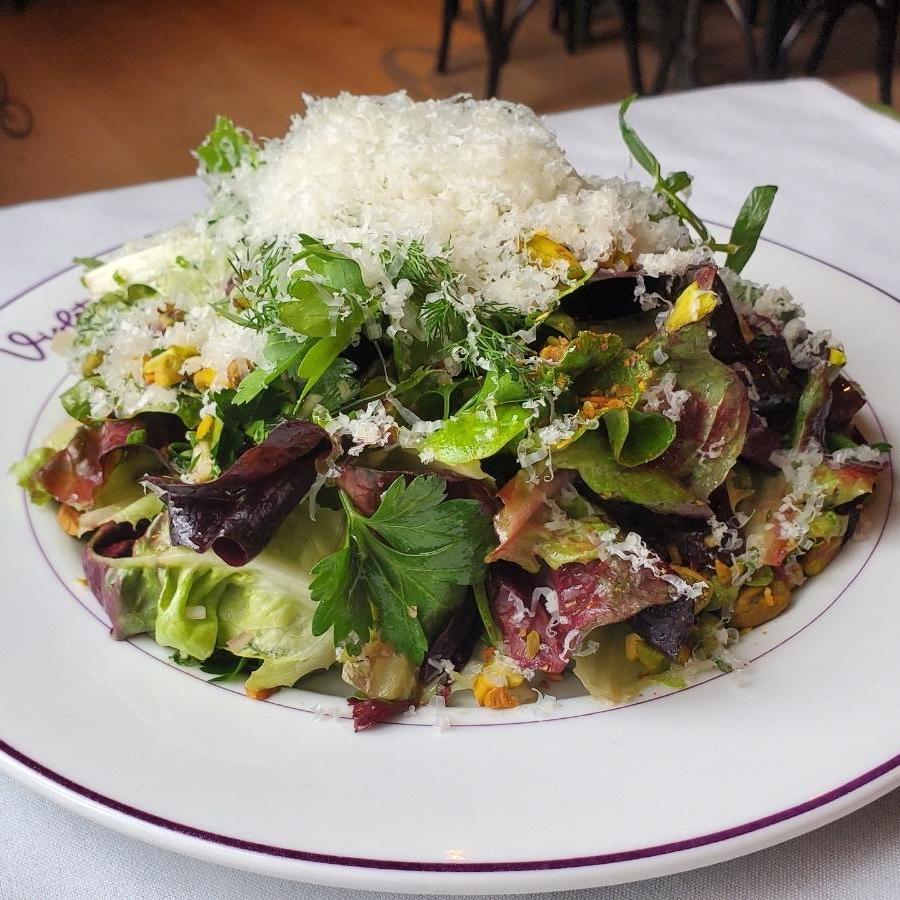 Courtesy of Violet Bistro
Your French affaire awaits! Share a lovely meal with your special someone this Valentine's Day from none-other than Violet Bistro. Located in Westwood, this restaurant is offering takeout for their two separate three-course, pri-fixe menus at $118, feeding two. Options include, French onion soup, a little gem salad, and beef bourguignon as well as stuffed squash, parmesan popovers, and a dessert box filled with six different kinds of yummy desserts!
Schedule your order here.
9. OpenAire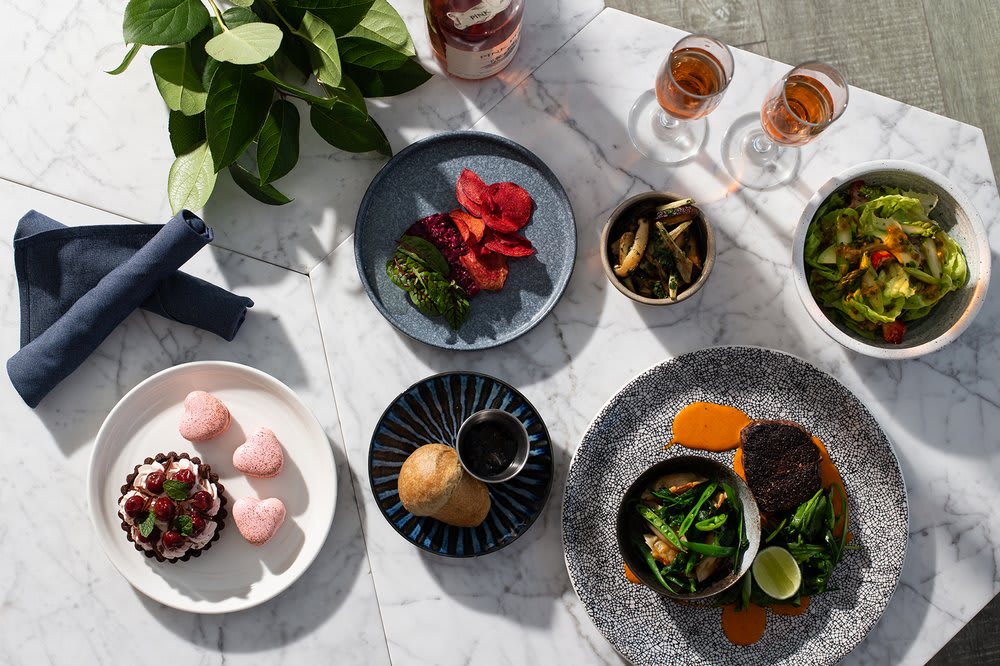 Courtesy of Yelp
Let's mix it up, shall we? So far we've seen French, Japanese, American, Italian — it's time for a Korean option! Nestled within The Line Hotel in Koreatown awaits OpenAire, offering meal selections at $95 per person this Valentine's Day. Their delicious menu will include smoked beet tartare, dungeness crab dumplings, grilled filet mignon, Maine lobster salad with passion fruit dressing, chocolate tart, strawberry rose macarons, and more. Wine and cocktails are available with an additional charge. OpenAire is offering both takeout and delivery as well.
Place your order here.
10. L'Antica Pizzeria Da Michele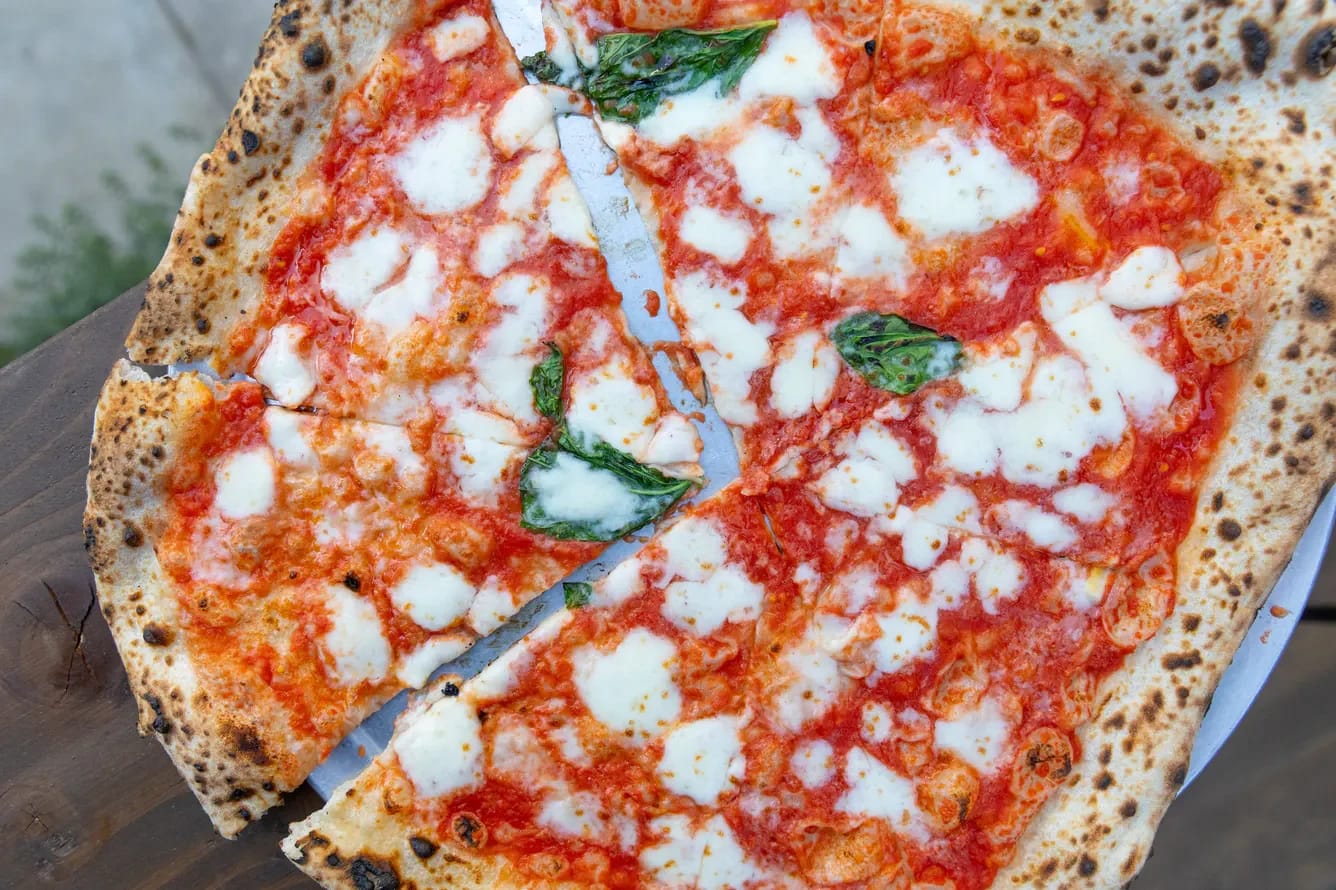 Courtesy of Jakob Layman
And finally, the key to anyone's heart — a finger-licking good pizza! Did you know L'Antica Pizzeria da Michele was made popular by the rom-com Eat Pray Love? Located in the Hollywood area, their two-course menu includes a choice of appetizer and pasta or risotto as well as your choice of dessert for $65 per person. The three-course menu is priced at $100 per person and includes your choice of appetizer and linguine or risotto, fish or steak, as well as your choice of dessert. Outdoor dining is also available.
Call to make a reservation.