Upgrading your countertops is probably one of the most important (and fun) steps of a kitchen makeover. Not only is it a relatively inexpensive improvement, depending on the materials you go with, it can add a WOW factor to the heart of your home and provide a great new look for a range of $3,000-$10,000.
So. . . white, gray, granite or quartz? With countertops, there are plenty to choose from and for different reasons. Selecting a countertop that will work best in your home will depend on the style you're going for, your budget, daily usage, as well as how much wear and tear the new countertops will need to endure.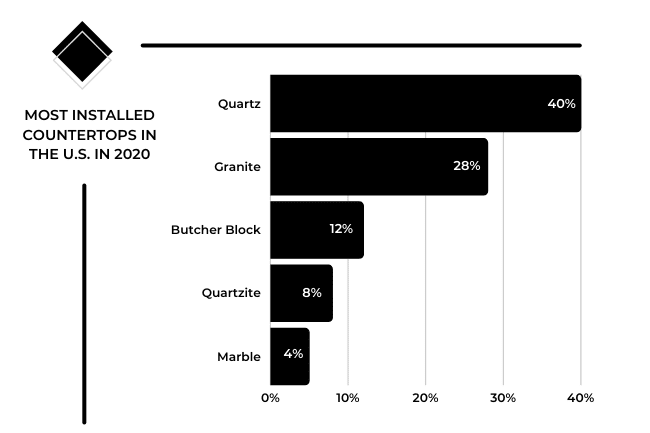 Source:

Statista

"Leading kitchen countertop materials used for remodeled homes in the United States in 2020"
Quartz.

Quartz is an engineered stone product that has exploded in popularity over the years because of its clean and modern esthetic and durability (heat, stain and scratch resistant). Quartz is diy-installation friendly, has a natural, uniform appearance, and is available in a wide variety of colors and patterns. Although it's less porous than granite, be sure to wipe up tea, coffee, wine, and tomato sauce spills, as these liquids can permeate the resin and stain over time. Quartz is quite durable, but not indestructible!
Did you know? Quartz is often more environmentally-friendly than granite.
Request an estimate from Giallo Stone in Glassell Park, a highly-reviewed granite and quartz dealer that provides fabrication as well as installation.
Cost Estimate: $40 to $100 per sq.ft.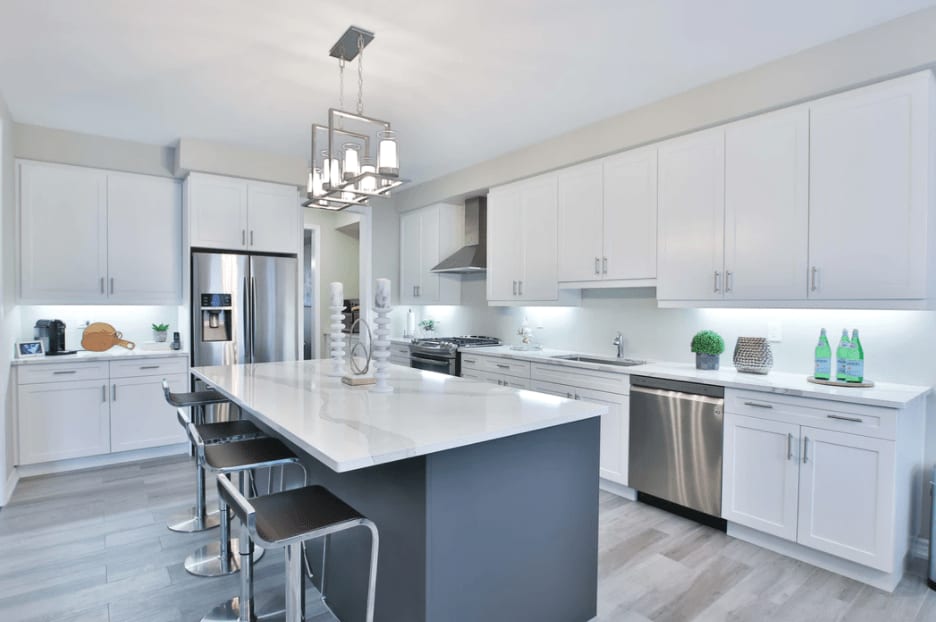 Pictured: Quartz countertop.
Granite.

If you're going for a rustic, luxury appeal and cost is not a factor, granite is an excellent choice for countertops. While both elegant and durable, granite can withstand high heat and there are literally thousands of colors and types to choose from which provides a more unique look. Granite can range greatly in price and quality from prefabricated pieces to leathered slabs with rare patterns and veigning. Installing it yourself is not recommended. If you go for granite, be sure to have it sealed every year to avoid stains.

Cost Estimate: $50 to $250 per sq.ft.
Did you know? Granite is the oldest igneous rock in the world.
Call us for a recommendation to local slab yard or installer: (310) 770-8066!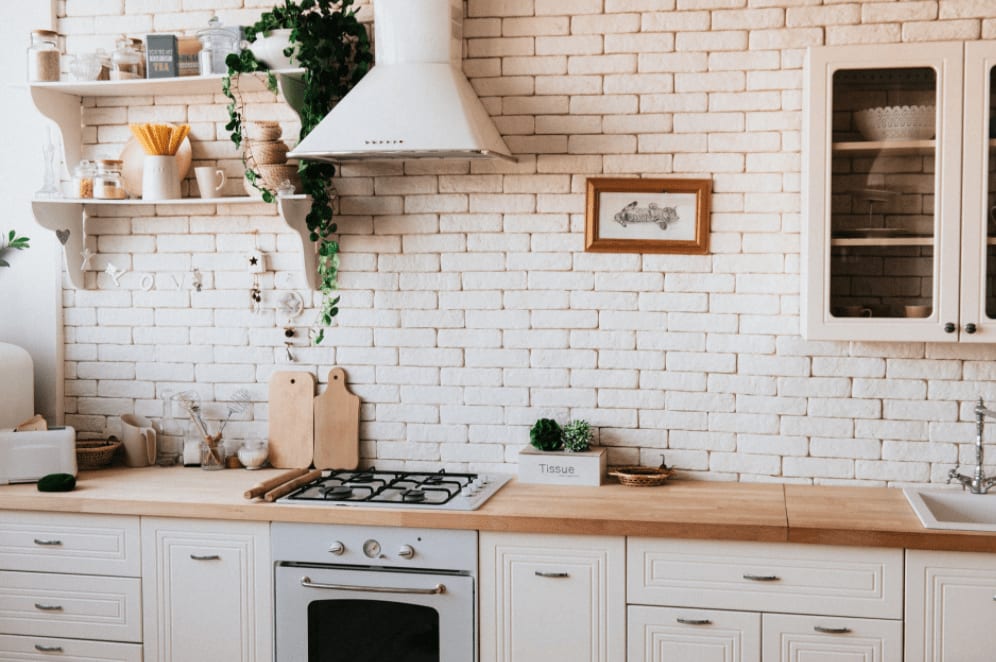 Pictured: Butcher block countertop.
Butcher Block or Wood.

To add warmth and charm to your home, wooden or butcher block countertops can be a great addition. When properly sealed (if you don't mind scratches), butcher block can double as an actual cutting surface for both produce and meat. Keep in mind, however, that it can harbor bacteria if not properly maintained. The upside, wooden countertops can be sanded and resealed after wear and tear occurs, making it a very long-lasting material.
For small kitchens, you can find butcher blocks for counters at your local Home Depot or Lowe's. For a wider selection, check out House of Hardwood in West L.A.
Quartzite.

A naturally occurring stone, quartzite has a glassy appearance and resembles marble, making it highly desirable. Because it is a porous, natural stone, a sealant will need to be applied every year. Available in many beautiful colors and patterns, quartzite is becoming very popular. For a one-of-a-kind look, check out

Taj Mahal quartzite

which performs well in high-traffic areas.

Cost Estimate: $60 to $220 per sq.ft.

Marble.

With marble, no two slabs are alike, making this a great choice if you fancy a kitchen with unique features and timeless appeal. Marble, a natural stone, is one of the most expensive materials you can choose for countertops, but the elegance it adds may be worth it. Keep in mind, however, that marble is more susceptible to scratching and staining and will need to be sealed frequently.

Arizona Tile

in Sun Valley has a selection of marble slabs to choose from.
Thinking of renovating your kitchen before you sell your home? Let us connect you to one of our trusted contractors who can take care of your project: team@lisakirshnerproperties.com